Greenwood Weekend 2022 kicks off this Thursday, October 6th, at the Oxford Center in Downtown Pittsburgh. This 4-day event is sponsored by The Greenwood Plan, which prides itself in offering the only black business conference in Western Pennsylvania.
On Friday, October 7th, the event moves to the Kelly Strayhorn Theater for a creative showcase featuring talent from across the city of Pittsburgh. Comedian Samantha Bentley will be performing Friday, Oct. 7th at the Creative Showcase to kick off the Black Business Conference! Greenwood Weekend continues on Saturday at Emerald City for a full day of conference classes and panels. The fun-filled event ends on Sunday with a "Jaded Brunch" at Echt Coffehouse Lounge and Bistro.
Saturday's conference includes a Social Media Panel at 6:30 pm featuring panelist Michael Carroll, CEO of Charlotte's Webb – the first Black-owned digital marketing and consulting
company in Pittsburgh. Michael has worked with artists, creatives, entrepreneurs, and businesses across the globe and is an expert at bringing his clients' target market directly to
their digital front door.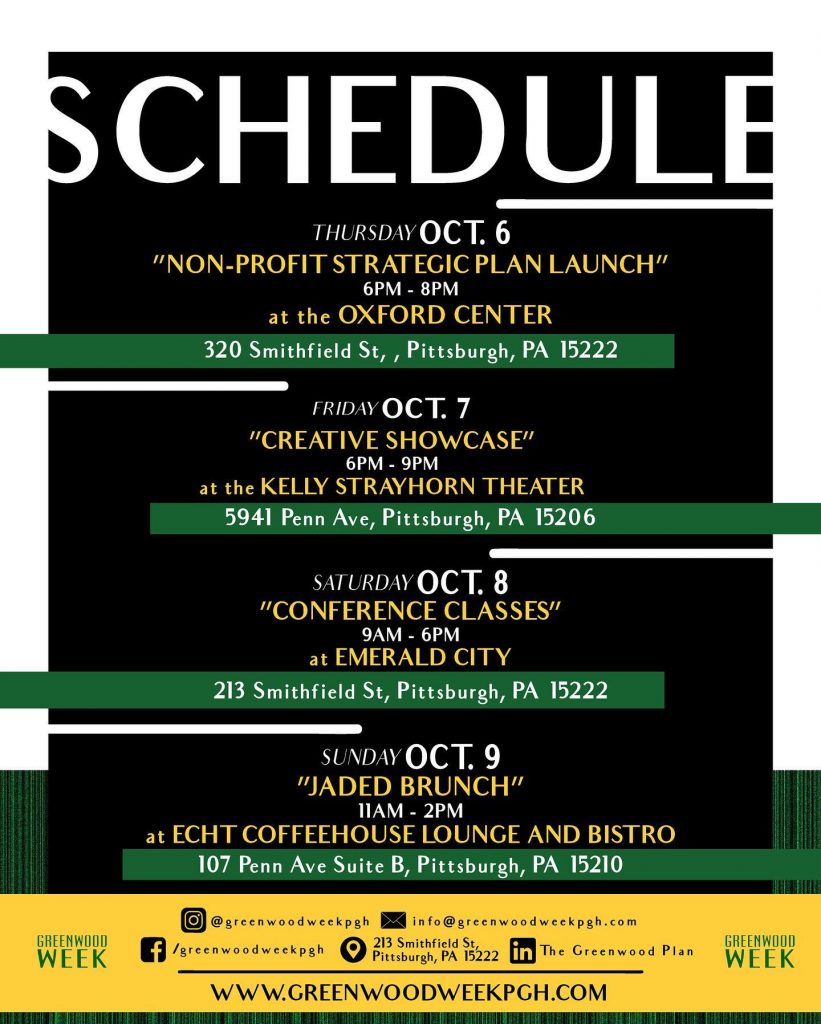 Guests can register for a single-day or all-access pass for the entire weekend. Once registered, businesses may apply for a chance to win a $500 Mini Grant from The Greenwood Plan. Childcare and food will also be provided for Saturday's classes at Emerald City.
Established in 2021, The Greenwood Plan is a Pittsburgh-based non-profit focused on supporting the communal health of Black communities. Its mission is to advance economic justice for Black communities by bridging people and knowledge networks, redirecting resources, and supporting the unique needs of Black businesses.
For registration and more information, click here.