Imagine Pittsburgh being named the best place for Black and Brown women to live across every indicator. Imagine increased college completion rates, equal employment opportunities, equitable pay and improved birth outcomes. Imagine women accessing endless opportunities. YWCA Greater Pittsburgh strives to turn these visions into realities through a new grant opportunity called Mission in Action. The funding stream is designed to build a future filled with liberty, freedom, and equitable opportunities; where racial and gender achievement gaps no longer exist.
As part of its mission to eliminate racism and empower women, YWCA Greater Pittsburgh, in partnership with the POISE Foundation, will award more than $2.1 million over the next three years to organizations working toward those same ideals. In support of the advancement of mission-aligned nonprofits and fiscally-sponsored projects in the region, a subset of awardees will also receive capacity-building support from PACE or The Forbes Funds.
"Our current work lives at the intersection of race and gender," said Angela Reynolds, YWCA Greater Pittsburgh CEO. "We recognize that through our work we build upon the strengths of our partners. We realize we do not give power to others, but rather we remove structural and systematic barriers to economic stability and a desired quality of life. We live out our mission through programs and services that advance racial justice and gender equity."
"POISE Foundation centers its work around strengthening families, particularly Black families," said Mark Lewis, POISE Foundation CEO. "We recognize that many of those families are headed by Black women. This partnership is a natural fit, complementing our philosophy and advancing human equity in our region. We are excited to support these critical investments in our community."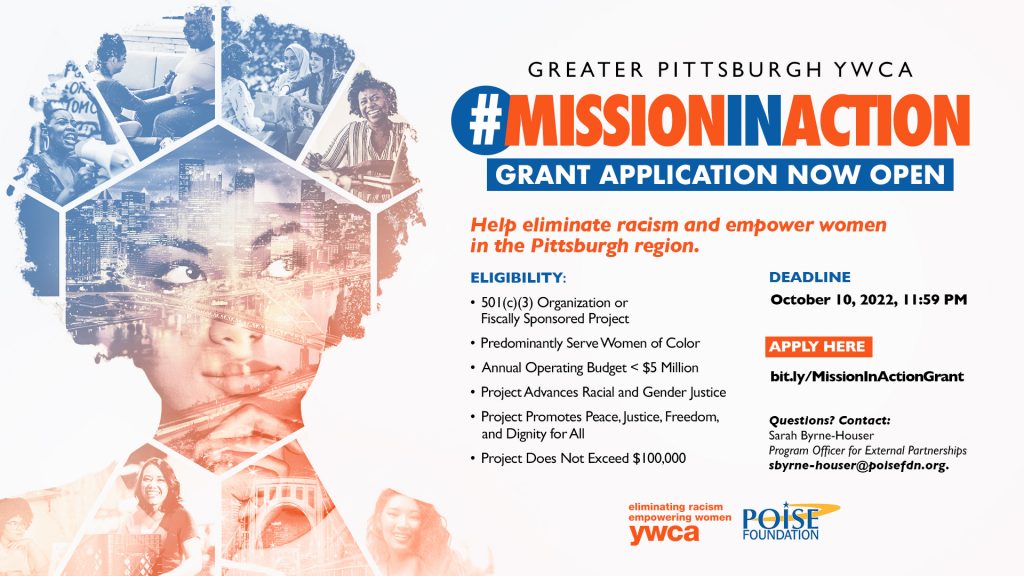 The program will prioritize projects that advance racial and gender justice and promote peace, freedom and dignity for all. To be eligible, you must be a 501(c)(3) organization or fiscally sponsored project predominantly serving women of color. Additionally, you must have an annual operating budget of less than $5 million.
POISE and YWCA are assembling a selection committee with at least five community members, and a plan to distribute $700,000 this year. Interested individuals may apply by visiting bit.ly/MissionInActionGrant. The deadline to apply is October 10, 2022, at 11:59 PM. Please direct questions to Sarah Byrne-Houser, POISE Foundation Program Officer for External Partnerships, at [email protected].