Young Black Motivated Kings & Queens (YBMKQ), a Pittsburgh-based organization serving
children, youth, and families, will unveil plans to open a community center in Penn Hills later this year. The center will provide a safe space for students to explore extracurricular activities and careers. The building, which will be tentatively located at 200 Penn School Drive in Verona is expected to feature reading rooms, study areas and state-of-the-art technology, including a computer lab, 3D printers and S.T.E.M. programming. The center will also offer cooking and nutrition classes as well as an art studio for students to paint, design clothing and jewelry, and create digital media. YBMKQ will partner with the school district and other organizations on this initiative to have a greater impact on students. Additionally,
co-working space will be made available. The announcement will officially kick off the center's capital campaign.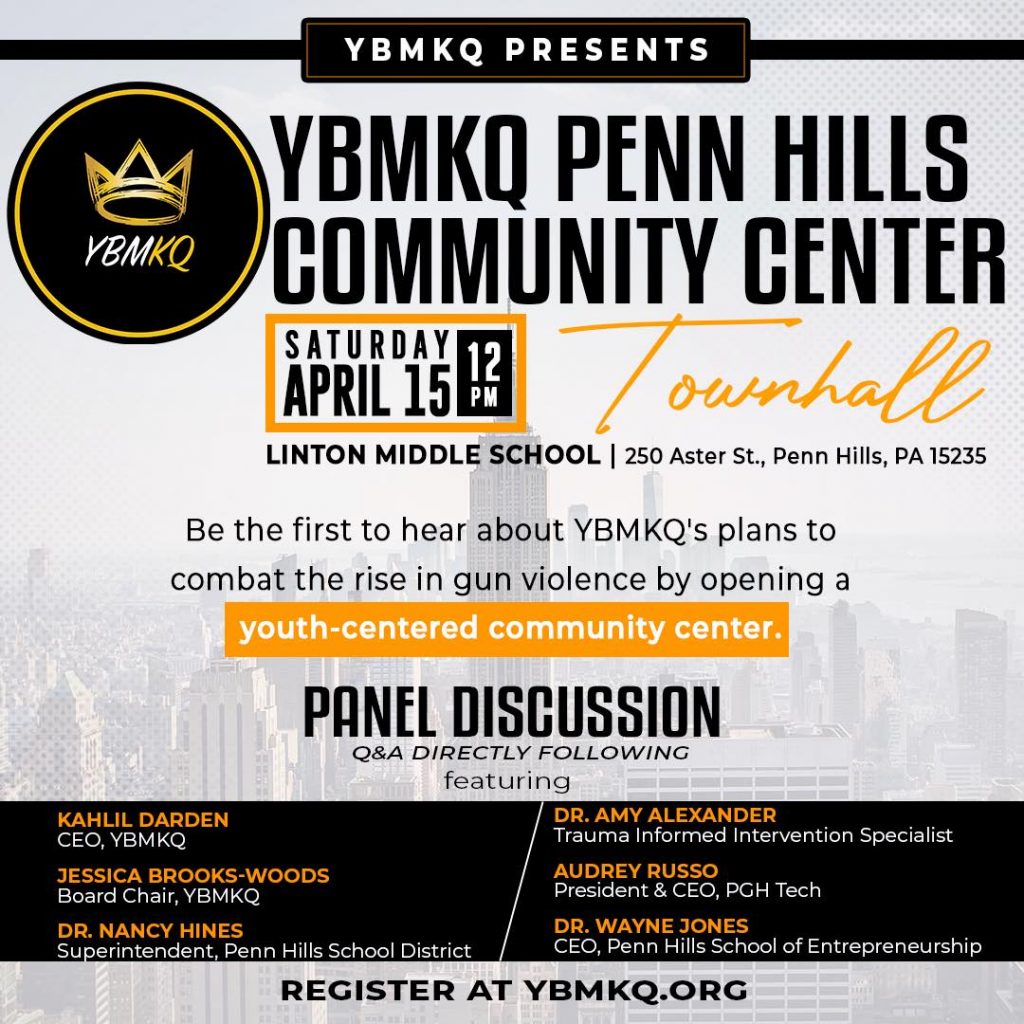 Who:
● Kahlil Darden, Founder and CEO, YBMKQ
● Dr. Nancy J. Hines, Superintendent of Schools, Penn Hills School District
● Jessica Brooks-Woods, YBMKQ Board President
● Audrey Russo, President & CEO, PGH Tech
● Amy Alexander, Former Guidance Counselor, Penn Hills School District
● Dr. Wayne Jones, CEO, Penn Hills School of Entrepreneurship

When: Saturday, April 15, 2023 at 12 PM EST

Where: Linton Middle School, 250 Aster Street, Penn Hills, PA 15235

Why: In 2019, Kahlil Darden founded the first Black Student Union at Penn Hills School District. When expanding his nonprofit, he strategically returned home to open a community and counteract the gun violence taking place in his community.
Young Black Motivated Kings & Queens (YBMKQ) is a community-based organization made up of some of the most dedicated young men and women of the city. In the face of constant discouragement and scrutiny, a group of young men and women have chosen to stand apart and show the community that young Black kings and queens are active, motivated, and empowered to be the change. The primary mission is engaging high school aged youth in becoming the leaders of tomorrow while serving the community.