The pre-eminent sculptor reflects on the heyday of The Hill's Black Arts, and his newfound stardom
By Nate Guidry
The music of pianist Thelonious Monk fills the room as iconic wood sculptor Thaddeus Mosley works on his latest piece at his studio in Pittsburgh's Chateau neighborhood. He estimates that he's created more than 800 pieces since the mid-1950s, beginning with smaller ones depicting birds and fish before transitioning into gallery-sized sculptures.
His largest is "Phoenix," located on Centre Avenue and Dinwiddie Street in Pittsburgh's Hill District neighborhood. Crafted from cedar, the towering sculpture took about seven months to complete and stands 24 feet tall, including its base. Commissioned in 1979, when Mosley, now on the cusp of turning 97, was in his early 50s, the Phoenix is a metaphor for the rebirth of the Hill District after the riots in April 1968.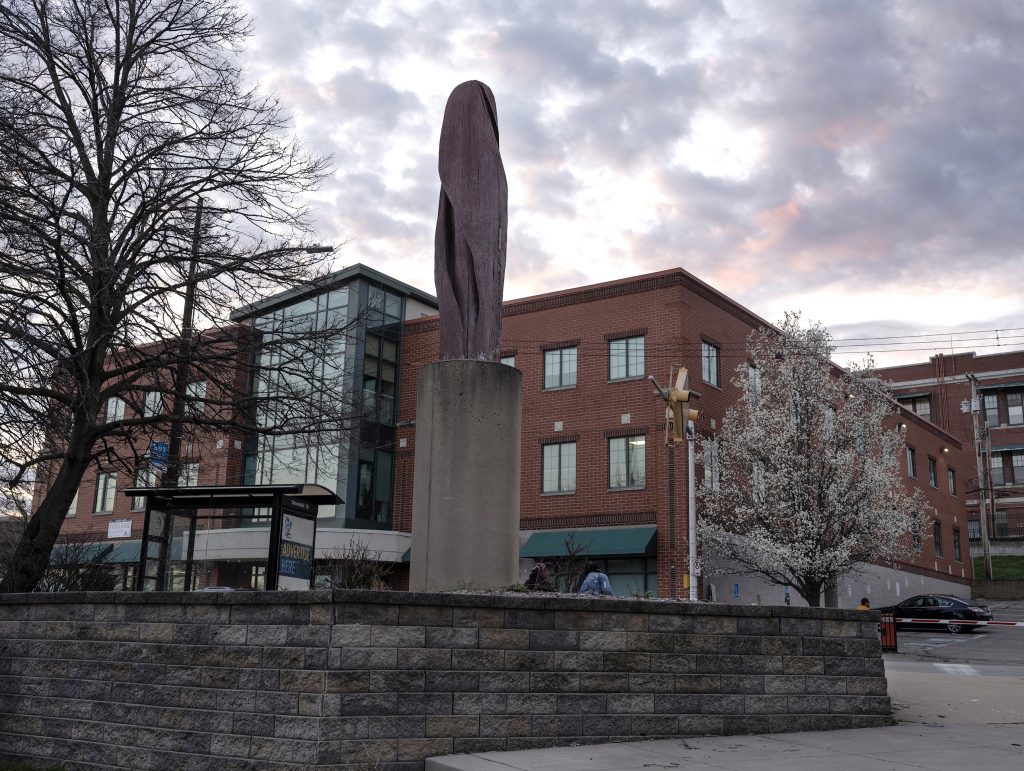 Mosley also has a large piece titled "Three Rivers Bench" in the David L. Lawrence Convention Center. But the Phoenix is the largest. The wood was shipped to Pittsburgh by train from Tacoma, Washington.
Whenever Mosley is at work he listens to jazz music – John Coltrane, Art Blakey, Pepper Adams, and Art Farmer, to name a few. He says listening to music keeps his spirits high. It also provides a bridge to his past – a past filled with great musicians performing in local venues like the Crawford Grill, Hurricane Lounge, Mutt's Hut, the Copa and Midway Lounge.
In 1948, he was at the Savoy Ballroom in the Hill District when alto saxophonist Charlie Parker played with his band. He also remembers seeing trumpeter Dizzy Gillespie there with Pittsburgh drummer Joe Harris. He witnessed a young Chuck Berry at a place called the Red Front. Berry was hopping around with his guitar, and everyone was laughing. Little did they know that Berry would become an international star. When bassist Charles Mingus played at the Crawford Grill, Mosley was there reporting on the event as a stringer for Jet Magazine.
Back in his studio, Mosley has been chipping away on his current sculpture for about two months. He uses hardwoods, like cherry and walnut, because he's able to create detail with those woods. Depending on the size and complexity, he says it generally takes him between two and three months to complete a piece.
In March, he stepped away from work for a few days when he traveled to New York for a new exhibit of his works at the Karma Gallery. More than 400 people attended the opening, including jazz composer Henry Threadgill, Thelma Golden (chief curator of the Studio Museum in Harlem), Richard Armstrong, formerly of the Carnegie Museum of Art in Pittsburgh, and now at the Guggenheim Museum, the actors Leon (who starred in the NBC television film Little Richard) and Malik Yoba (of New York Undercover fame), as well as family members.
Mosley has no plans to stop. The demands for his time and art have never been greater. In 2018, his work was prominently featured in the prestigious 57th Carnegie International at the Carnegie Museum of Art. Afterward, he signed with Karma Gallery, which has increased his visibility and placed pieces in museums and galleries across the country and in Paris at the Musee National Eugene Delacroix.
BlackPittsburgh.com spoke with Mosley at his studio recently about a wide range of topics. The responses have been edited for space.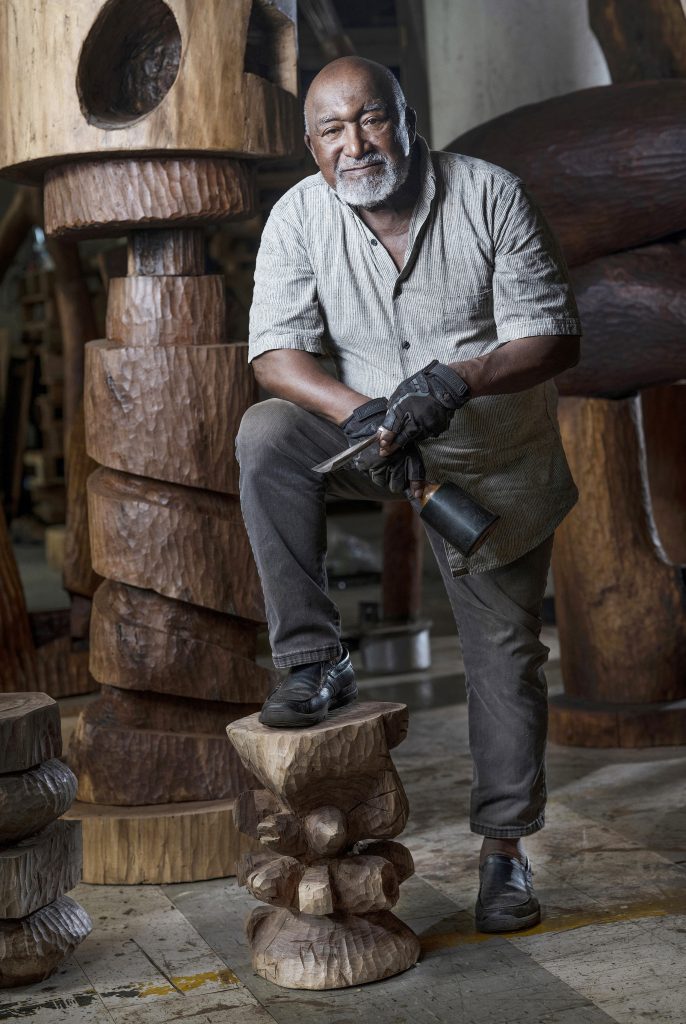 Among Mosley's influences: The Carnegie International, which he has consistently attended since the 50s, and his immersion in the Pittsburgh jazz scene—beginning as a teenager in the 1940s. Photo Credit: Nate Guidry
What was it like growing up in New Castle, Pennsylvania?
There weren't many Afro-Americans in New Castle. It was a coal mining and steel mill town. Most people worked in the tin mill. In high school, I ran track and sang in the acapella choir.
After graduating from New Castle High School, you joined the United States Navy. What was that experience like?
When I went into the service in late 1944, the entire military was segregated. There were three jobs Afro-Americans did in the Navy. They became steward mates (which was like a valet for the officers), cooks, or stevedores. I became a stevedore, loading and unloading ships.
A few years later, you returned to Pittsburgh and enrolled at the University of Pittsburgh. Did you always want to go to Pitt?
One of my best friends was a guy named Bobby Lee. He was a big football star and he decided to go to Pitt, so I went to Pitt. Bobby Lee was quite the football player at Pitt. He later played for the Detroit Lions and also in Canada.
After graduating from Pitt in 1950 with a major in English and minor in journalism, you worked as a sports reporter for the Pittsburgh Courier. How long were you there and were you able to interview any notable athletes?
I was with the Pittsburgh Courier for about three years. I left to concentrate on my sculptures. At the time, I also had a full-time job at the postal service. I mostly covered high school and college sports. I interviewed Larry Doby. He was the first black baseball player to play in the American League when he signed with the Cleveland Indians in 1947. I also interviewed Pittsburgh boxer Ossie "Bulldog" Harris. I met boxers Jersey Joe Walcott and Ezzard Charles. They fought at Forbes Field in 1951. I didn't get to interview Sugar Ray Robinson when he was here, but I met him. I knew Roberto Clemente pretty well. Back then all the athletes would come to the Courier office.
Can you talk about the significance of the Pittsburgh Courier in the black community, both in Pittsburgh and across the country?
The Courier was considered the most prominent weekly in America. The Courier had a national reputation because of writers from New York like Billy Rowe, who wrote an entertainment column. Wendell Smith was the national sports editor. He wrote about some of the great college athletes like Jackie Robinson and Kenny Washington, who were both at UCLA, and Lou Montgomery at Boston College. The Courier also had a magazine that featured columns by Langston Hughes. I also used to contribute a little poetry to the magazine.
Did you get to work with the iconic photographer Teenie Harris?
I worked with Teenie a lot. Teenie was probably the most energetic person I have ever met. He never stopped moving. His studio was about 50 steps from the Crawford Grill. He photographed sports, politics, and entertainment. There was very little visual history of Afro-Americans in the 1920s and '30s when Teenie came along. He had groundbreaking pictures of the Pittsburgh Crawfords and Homestead Grays [Pittsburgh-based Negro baseball Leagues teams], and other photographs that would not exist today had he not taken them. He has a collection of photographs from a time in Pittsburgh when Afro-Americans were totally ignored. Some of the people he photographed became very important in American politics, sports, and entertainment.
Pittsburgh has an international reputation for being one of the great cities for jazz. What was the scene like in its heyday?
There were a couple of heydays. In the 1940s, there were a lot of local bands, led by musicians such as Walt Harper, Warren Watson, Duke Spaulding, Honey Boy Minor and Leroy Brown who led the house band at the Crawford Grill. In the 1950s, the jazz scene started really popping after Joe Robinson, owner of the Crawford Grill, started bringing in out-of-town groups. The first time I saw [Pittsburgh] drummer Roger Humphries, it was at the Grill. He was about 15 years old. On weekends, the Grill had a dress code. There was a guy who worked at the door named 'Chicago' and he wouldn't let you in if you weren't properly dressed. I saw a lot of great musicians there – among them Art Blakey and the Jazz Messengers, Donald Byrd, Pepper Adams, Jackie McLean, Chet Baker and Stan Getz. John Coltrane brought his quartet to the Grill for two weeks.
Any other venues that showcased jazz that you frequented?
'Birdie' [Anna Simmons Dunlap] had the Hurricane Lounge… There was also a small place called Mutt's Hut on Wylie Avenue. Stanley Turrentine and Shirley Scott played there as did guitarist Tiny Grimes. I saw Max Roach and Clifford Brown at the Midway Lounge. Miles Davis brought his 'Kind of Blue" band there as well.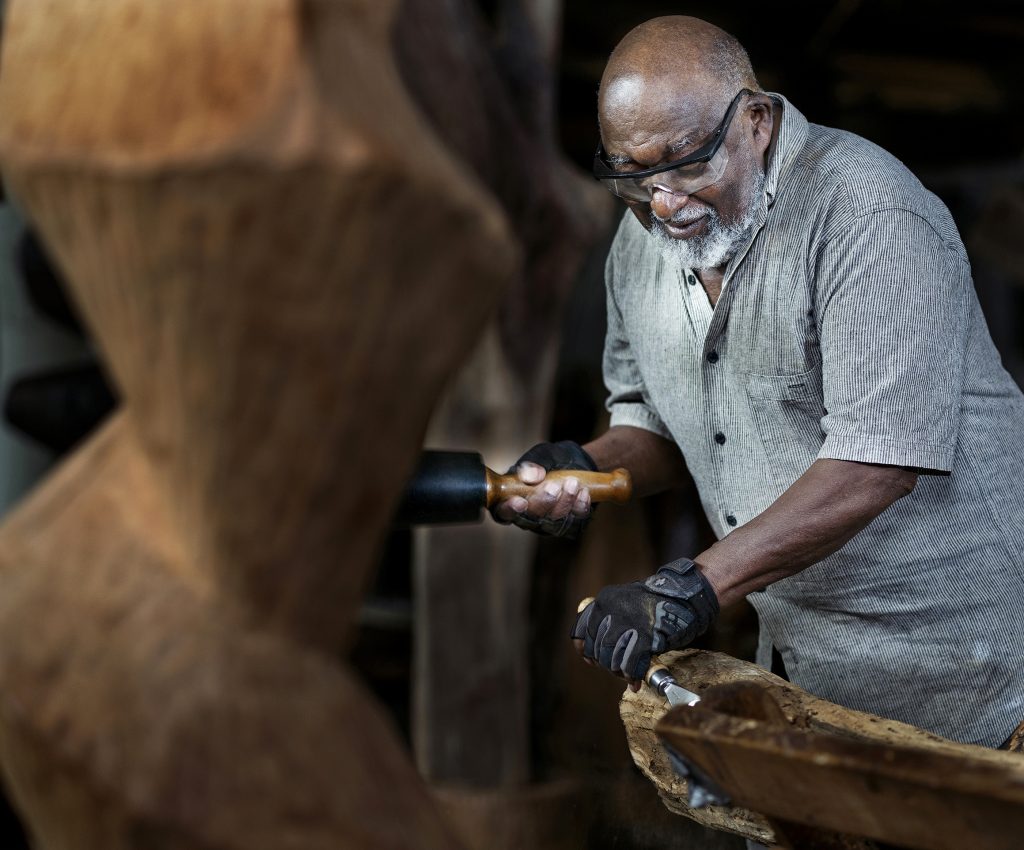 Were there any black artists that inspired you when you were starting out?
Early on there was the sculptor Richard Hunt who is younger than I am. He came to prominence when he was in his early 20s. There was also the painter Sam Gilliam. Before that, there were people like [painter] Hale Woodruff, sculptors Augusta Savage, Selma Burke and Sargent Johnson. There was also the painter Merton Simpson who had a fantastic African tribal arts collection.
What are some of the more common reactions people have to your work?
Most people are pretty puzzled, and many others are interested because I'm an Afro-American artist and they don't see many Afro-American sculptors, at least in any prominent spot.
You recently attended an opening of your work at the Karma Gallery in New York. How comfortable are you talking about your work?
I've been doing this since the 1950s. I had my first show at the Carnegie Museum of Art in 1968 and since then I've been doing interviews and talking about my work. Everything in the art world is about networking. People always want to meet the artists.
You've been grinding over 60 years. Any plans to slow down?
No. I will continue to work until I'm physically unable to.
Nate Guidry is a Pittsburgh-based photographer specializing in portraiture.