Please join the Iota Phi Foundation of Pittsburgh at the 29th Annual Iota Phi Achievement Dinner hosted by the Iota Phi Foundation in collaboration with the Iota Phi Chapter of Omega Psi Phi Fraternity, Inc.
The celebration will be held on Saturday, November 18, 2023, from 5:30 – 8:30 PM in the Rivers Casino Event Center. The Mistress of Ceremonies for this Black Tie Optional event is Talia Kirkland of WPXI-TV News. There will also be dancing and entertainment featuring DJ Mac Daddy from 8:30 PM to 10:30 PM.
They will celebrate the accomplishments of a wide range of leaders in the Pittsburgh region and honor five local high school seniors with college scholarships.
Click here to purchase tickets.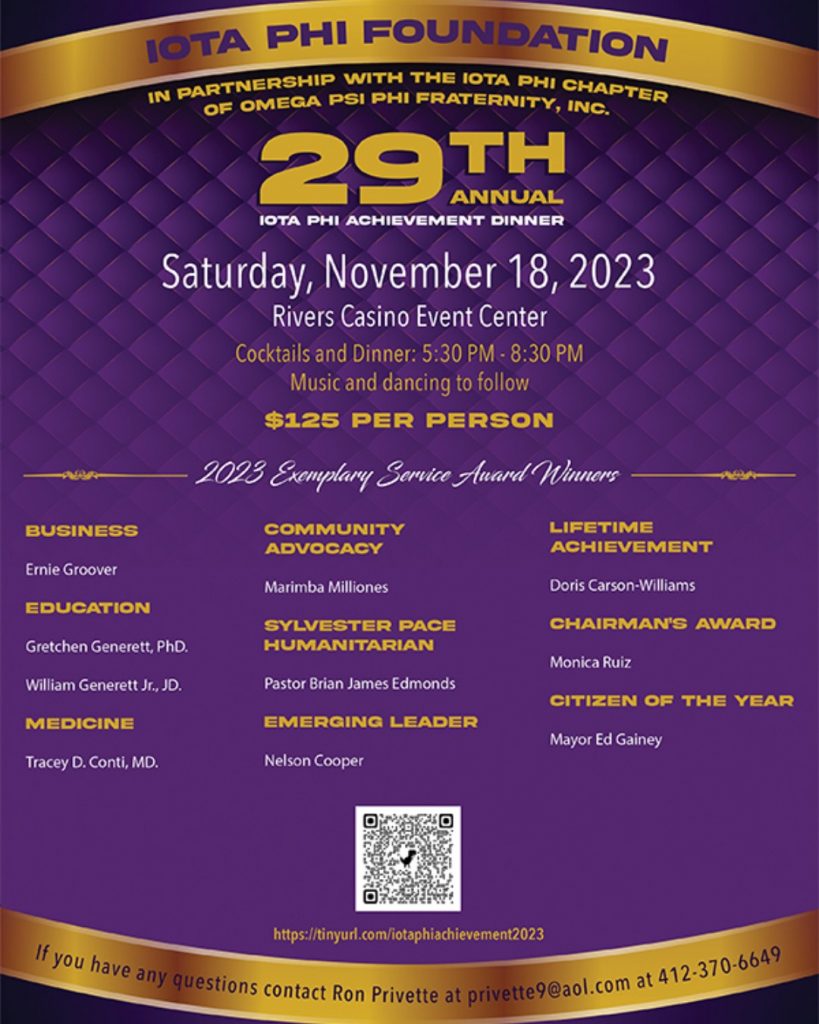 2023 EXEMPLARY SERVICE AWARD WINNERS
BUSINESS
Ernie Groover, ProTech Compliance
E DUCATION
Gretchen Generett, PhD., Duquesne University
William Generett Jr, JD., Duquesne University
MEDICINE
Tracey D. Conti, MD, University of Pittsburgh Medical Center
COMMUNITY ADVOCACY
Marimba Milliones, Hill Community Development Corporation
SYLVESTER PACE HUMANITARIAN
Pastor Brian James Edmonds, Macedonia Church of Pittsburgh
EMERGING LEADER
Nelson Cooper, PNC Financial Services Group
LIFETIME ACHIEVEMENT
Doris Carson-Williams, African American Chamber of Commerce
CHAIRMAN'S AWARD
Monica Ruiz, Casa San Jose'
CITIZEN OF THE YEAR
Mayor Ed Gainey, City of Pittsburgh
NOTE: The college scholarship award winners will be announced in October.