Pastor Dale Snyder and his church want all hands-on deck in their fight to reclaim Bethel AME's legacy as a "Citadel of Hope"
By Rahiel Tesfamariam
BlackPittsburgh.com recently interviewed Rev. Dr. Dale Snyder, pastor of Bethel African Methodist Episcopal Church in Pittsburgh. Founded in 1808, Bethel is the oldest Black church in the city and once served as a stop on the Underground Railroad. A "citadel of hope" for generations of African Americans, the church offered wrap-around services to the Black community and its sanctuary once held space for 1,900 congregants. In 1957, the church's land was seized through eminent domain, demolished, and later became part of the Civic Arena site and the parking lot of the Pittsburgh Penguins PPG Paints Arena.
In the aftermath of George Floyd protests in the summer of 2020 and at a time when the call for reparations has reached new heights, Rev. Snyder and his congregation now seek reparations to restore what was lost when they were forced to relocate. This interview has been edited and condensed for clarity.
What role did the church play in the community prior to its demolition and relocation?
Bethel AME Church was founded by free Africans. In the 1830s, they opened the first school to teach Blacks when Black students were not allowed into the public schools. They've been a part of every abolition movement to end slavery, the fight for the African-American male to vote, and then eventually the fight for women's suffrage. An internationally known church for social justice during the early 1800s and 1900s, we held the first statewide convention on civic engagement. In 1954, before they tore our church down, we held a rally in our church against police brutality. We were teaching people during the Great Migration. We had a nurses' guild, a tutoring program, opened up the first daycare in the community, and were part of the Underground Railroad.
"Like someone dropped a bomb": Rev. Snyder's description of the destruction of Bethel AME on July 24, 1957. Photo credit: Courtesy of Bethel AME
What impact did this have on the Black community?
Our church was a beacon of hope. So destroying Bethel was like taking grandmama out of the family. Grandmama was the anchor that kept everyone together and focused on what needed to happen. Bethel has been that anchor in our community for over 214 years.
The idea of a church receiving reparations seems unique. Why did you choose this approach?
After they took our church, we were only able to build a sanctuary to house 900. And from that, we lost two-thirds of our congregation who could not fit in the building. We were supposed to get enough money to build an educational wing but the construction cost was exorbitant. And we were not able to build a sanctuary similar in size to the prime location we had downtown. We were paid money for our building and our land but we were not paid air rights. And from our understanding of law back then, there were two places that you should not be able to take by eminent domain — churches and cemeteries. But because of white supremacy, we were targeted. We were targeted because we were doing what needed to be done for Black people.
What did you discover when you researched this history?
If you go back to those photos of 1957, it was 28 acres of desolation, like somebody dropped a bomb on the neighborhood. Epiphany Roman Catholic Church (a predominantly white church only 480 feet away from where Bethel stood) had gotten an exemption from the government. One of the most heart-wrenching stories I heard was that some of the people were saying, "Our God was not able to save our church but the white God was able to save the Epiphany Church."
Have you been able to quantify the economic impact?
If you took 3,000 members and you multiplied that by a dollar and you multiply it by 63 years, and you multiply it by 52 Sundays, that'll give you an idea of what we lost on the lower end. But if you take that same number and multiply it by $50, then that'll give you where we would have been at on a medium end. If you take that number and multiply it by $100, we lost close to a billion dollars in revenue.
(left) A community meeting on police brutality at Bethel AME in April 1945. (right) Archival photo of Bethel AME at its original address at 1206 Wylie Avenue. Photo credit: Courtesy of Bethel AME
How did this fight for reparations begin?
In the middle of the pandemic, I got a call from the bishop's office that someone had sent a letter wanting to meet with him about reparations. Well, in our church, all things local go back to the local pastors and trustees. We met with the individual. [A community developer who Pastor Snyder chose to not name.] And the person said that we deserve reparations. At that point, I knew we were the oldest Black church but I had no idea what happened to us by eminent domain. So I asked the person, "What do you think we're entitled to?" They said to me, "We'll put a plaque in the building that we want to build where your historical church was at." I looked at them and I don't play poker because I don't have a game face. So at that point, I put together a historical committee in our church. And we began to research what happened and why they took our land.
What exactly would healing and justice look like?
Right now, we're asking for the development and the title rights back to our land. We could build a new facility for our services and build a classroom space where universities can rent classroom space, which could ensure that we don't have to go into debt to maintain a building on that property. Secondly, we would like to develop the vacant land around our church and within that complex to create opportunities for young people in the Hill.
The fight for reparations in the Black community has a long history, full of many disappointments. What makes you hopeful that this time, things will be different?
Recently Color of Change helped descendents of the owners of Bruce's Beach in California lobby to get their land back. In Evanston, Illinois, the city government has decided to give $25,000 each to its Black residents for housing. Many denominational churches now are starting to give a percentage of their endowment to historical Black churches and programs benefiting African Americans. In California, the state just released an interim report on their study on reparations, a 500-page document, in which they show that the United States government through white supremacy targeted Black people through redlining, through using the judicial systems, etc. Certain universities (including Harvard University) have recognized that they benefited from slavery and have set up endowments to pay reparations. A group of mayors (Mayors Organized for Reparations and Equity) have gotten together and said they're going to come up with remedy programs for reparations for Black people in America. Those are the kinds of things that are happening across the country.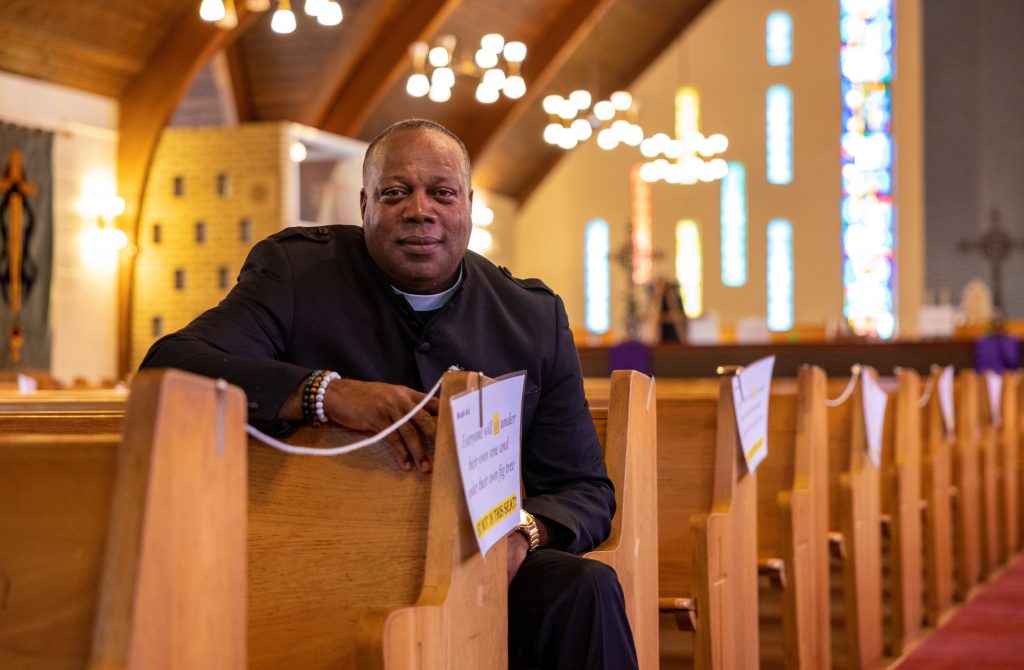 Earlier this year Bethel had table talks with several white churches about reparations. How did that come about and what was the result?
Through all of the negotiations that we have been going through, we were kicking the can down the road. So I began to organize meetings white churches. I knew in order to get the ball moving, we had to get some white allies to advocate for us in rooms that we couldn't get into. We sat down with white congregations and told them our story. They read through the book Reparations: A Christian Call for Repentance and Repair (by Duke Kwon and Gregory Thompson) and had historical context to understand that the Christian church owned slaves, sold and broke up families, and benefited in other ways that went on for centuries. After that, a lot of them began to fight with us to do fundraising for our pre-development. On June 19th, they came and worshiped with us. And we had over one hundred white people from their congregations join us at Bethel and rededicated themselves to our fight for reparations.
Where are you currently in the fight and what's next?
Color of Change said they would like to help and they have been negotiating with the Penguins to come back with a dollar amount—enough money to hire staff and consultants to put together a pre-development plan about the best possible use of the land. In addition to that, they will begin to negotiate with the city of Pittsburgh and the Sports and Exhibition Authority to see about getting our land back and our development rights back. One of the things that the Pittsburgh Penguins offered us, as a result of those negotiations, is shared benefit rights and equity inclusion on a building that they're going to build next to our property. Our property has been slated as a green space. Additionally, the mayor's office has had the memorandum of understanding since November, which the Penguins and the Urban Redevelopment Authority agreed to. We're asking the mayor for future meetings with his office about it. But it's time to stop pontificating. It's time to make this a reality.
Rahiel Tesfamariam is a public theologian, the founder of Urban Cusp and has been a columnist for the Washington Post.