The Hill District birthplace of playwright August Wilson opens as a community arts center.
Op-Ed by Ervin Dyer
Almost 20 years ago, I stood on the corner of Bedford Avenue and Roberts Street in Pittsburgh's Hill District neighborhood. I pointed to a crumbling brick edifice at 1727 Bedford and asked children passing by if they knew that a little boy destined for great achievements was born in the rear of this home in the 1940s.
Nope, they said, shrugging their shoulders and riding off on their bikes.
How could they know? The back part of the home they saw was rotting and blanketed with weeds. There was no sign marking the residence as the birthplace of anyone famous.
Today, there's hope that children—and people the world over—will come to know who lived in that home. On August 13th, more than 700 people (celebrities, politicians, artists, the wealthy, and not-so wealthy) came out to celebrate the grand opening of the home and arts center of the man whose name they all know: August Wilson.
First photo: Jasiri X, hip-hop artist and co-founder of 1Hood Media reciting his poem "Black Kings." Upper right: Dr. Kimberly Ellis, Paul Ellis Jr., and Sakina Ansari-Wilson outside August Wilson's childhood home, 1727 Bedford Avenue. Lower right: Members of 1Hood Media at the celebration (left to right: Man-E, Austin Bey, Jannah Smith, Jasiri X, Celeste Smith, Farooq Al-Said, Treble NLS). Photo Credit: Emmai Alaquiva
Wilson is beloved as a writer. He gave the world the American Century Cycle, the series of 10 plays that evoke the social and economic experiences of Black Americans throughout the 20th century. One of the plays, "Ma Rainey's Black Bottom," is set in Chicago, but the nine others are set in his birthplace, the Hill District—a cultural corner of Black history and arts.
In 2002, as a reporter with a local newspaper, I walked through trash and discarded drug needles in a nearby vacant lot and looked upon the abandoned home with sadness. It was too dilapidated to enter. About a week ago, I stood inside the home—filled with paintings, sculpture and sunshine—and looked down from its third floor during the grand-opening festivities. A special pride washed over me.
I've been a board member of the August Wilson House for a little more than two years, but those who came before me have spent years fund-raising, restoring and dreaming of all the house could be.
Denzel Washington, the two-time Academy Award winner, was there. He was made aware of the home several years ago when in town filming the movie adaptation of "Fences."
"I want to thank the community," he said, praising the crowd for its support of Wilson and his legacy, because Wilson "is yours, and you are his. You just share him with the rest of us."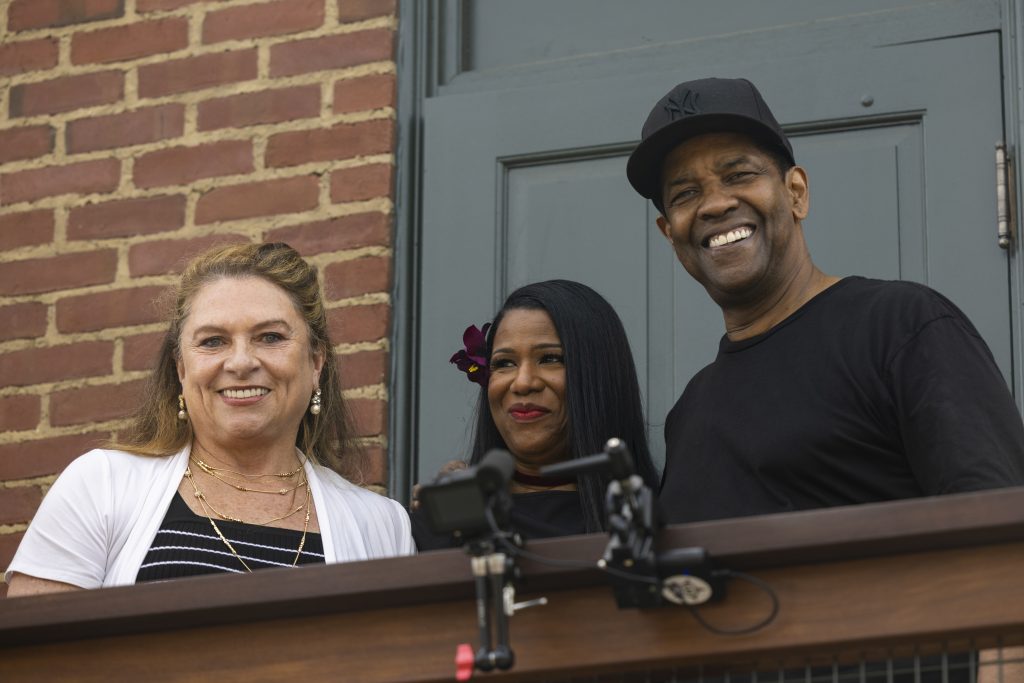 Washington went on to lead a $5 million donation campaign that drew support from Oprah Winfrey, Tyler Perry, and Pittsburgh's own Antoine Fuqua. Russell Hornsby, one of the co-stars who portrayed the character Lyons in the 2016 movie version of "Fences," was also around, posing for pictures and dancing late into the night.
But beyond the celebrity, the people of the Hill and Pittsburgh, including Wilson's nephew, Paul Ellis, Jr., helped to spearhead the purchase and restoration of the home. He wanted to honor his uncle's request that the home be made "useful."
Wilson was adamant that the home not be a "museum" and so Ellis and the board, under the leadership of acting chief executive, Denise R. Turner, have focused on programming that flows into the community as a way to understand on Wilson's legacy and also to advance and inspire Black arts and culture.
It's been amazing to witness the vast programming the board has been busy carrying to the people—even before the doors of the restored home swung open. The signature programs are an annual Block Party, held in the spring to commemorate the playwright's April 27th birthday; and an outdoor stage behind the home that showcases the work (often the work of Wilson) from Pittsburgh Playwrights Theater Company.
There is an emerging August in the Schools curriculum to bring Wilson's literature to youth, an oral history project to harvest the rich stories of Hill residents, and an Actors Talk August interview series that spotlights actors, directors, and others who worked in Wilson plays and/or who knew the writer.
Watching from the third-story window and seeing such star-power pour out into the streets to celebrate Wilson is a recognition of the two-time Pulitzer Prize winner's contributions to American Arts and Letters. Wilson is also a Tony winner and the first Black man to have a Broadway Theater named in his honor. But the crowd gathers also to acknowledge his gifts and tenacity as a writer, including his courage to herald the African American experience as one of value.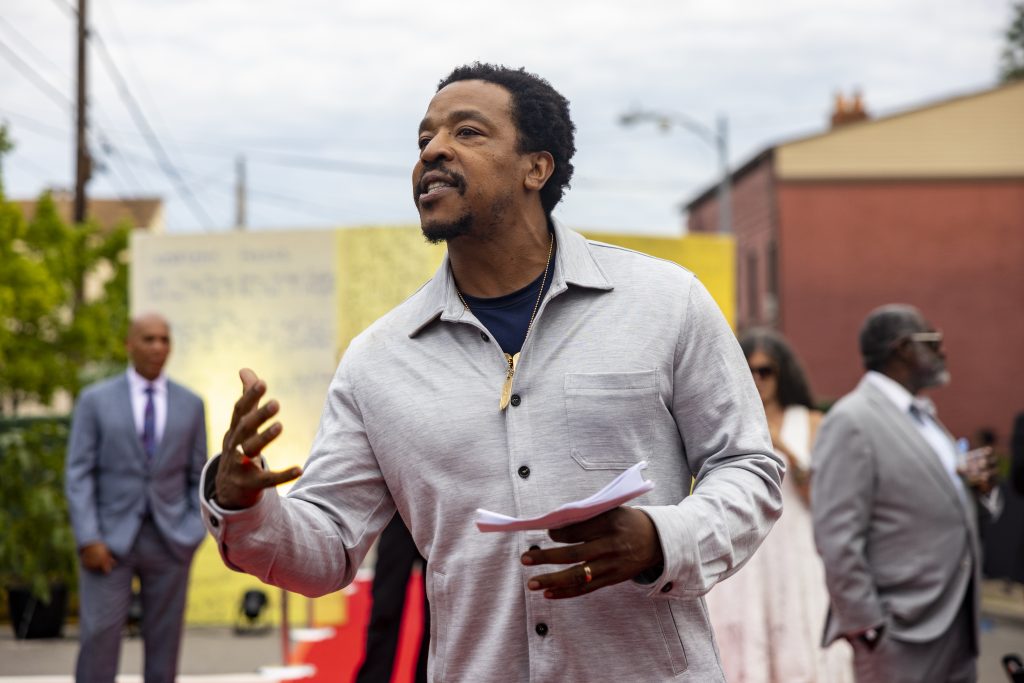 Wilson's lyrical fiction gave voice to ordinary men and women who found themselves woven into the extraordinary and racist social fabric of America. His stories reinforce that that fabric has worked to smother their culture, contributions, and full citizenship.
In fact, the emotional core of his plays shows the characters' great struggles to survive and be whole. That is the connective genius of his work. The characters may live in Pittsburgh, but their stories are the stories of my mother and father from Virginia, and your mother and father, and their reach for dignity, social mobility and freedom.
One of my most fond memories is of taking my mother, who was also a writer, to several of Wilson's plays. We'd spot Wilson, looking at the audience looking at his work. At intermission, my mom would catch up to the playwright Wilson and the two shared laughs and conversation as they smoked cigarettes. He was as generous and gracious with his time as he was with his stories. My mother always glided back to her seat beaming after being in the company of a storyteller hero.
At the August Wilson House opening, Wilson's widow, Constanza Romero Wilson, shared this sentiment with the crowd and how it reflects on the House.
"August Wilson House belongs to the Hill, to Black Americans, and because his stories are American stories of triumph under oppression, it belongs to all of us."
That Wilson lived in the rear of 1727 Bedford Ave., probably speaks to the family's economic challenges. His Black American mother was a domestic and his German immigrant father, who Wilson says wasn't around much, was a baker. Wilson was born Frederick August Kittel in 1944 at the Bedford home. His family rented two rooms in the back of the house, which had no hot water.
The family bathed in the kitchen, using a large galvanized aluminum tub with water heated on the kitchen stove. They used an outhouse in the back yard until a commode was installed in the basement in the mid-1940s, to be followed by a bathtub and hot water heater in 1953.
In 1952, when an upstairs neighbor moved, the family cut a hole in the wall and built stairs to the apartment's two rooms, doubling the family's living space.
But if where Wilson grew up was sparse, it was also sacred.
"I am not a historian," he once said. "But I happen to think that the content of my mother's life-her myths, her superstitions, her prayers, the contents of her pantry, the smell of her kitchen, the song that escaped from her sometimes parched lips, her thoughtful repose and pregnant laughter-are all worthy of art."
Freddy Kittel was young, but what he learned at his mother's knee stayed with him as he became a writer. He saw Black struggle and triumph and learned to appreciate Black culture and spirit.
On the Hill, he saw Black businessmen, domestics, jitney drivers, hotel owners and musicians. He saw death and life. He heard the people's songs, and they morphed into the plays that made him famous.
It costs millions to restore the Wilson birthplace and turn it into an arts center. But the restoration is invaluable, says Marimba Milliones, a longtime Hill District resident. She also served on the host committee for the grand opening celebration.
She once told me that too often, when the buildings go, so do their stories.
"We think the social significance of some places merits keeping them around," said Milliones, a leader with the Hill District Community Development Corp., a nonprofit dedicated to reviving the community.
Like Wilson, I started telling stories as a kid, to my grandmother in her old wooden house in rural Virginia, to my brothers and sisters on car rides across town, to my elementary school teachers as my classmates lay napping. I loved words and those who mastered them. So, as a writer and as a board member, it is gratifying to know that in some small way I've contributed to bringing about the "historic" legacy of the house.
Wilson's home is the third such honor for a Black American male writer.
The first was the great Paul Laurence Dunbar. His home, a handsome two-story brick structure in Dayton, Ohio, was purchased in 1904 for his mother, Matilda. The Ohio Legislature declared it a state memorial in 1936, and it was opened to the public in 1938.
The second is the Harlem brownstone of poet Langston Hughes. The poet lived there the final 20 years of his life in New York before he passed in 1967. It was opened as a writing and public arts center around 2016 before closing a few years later.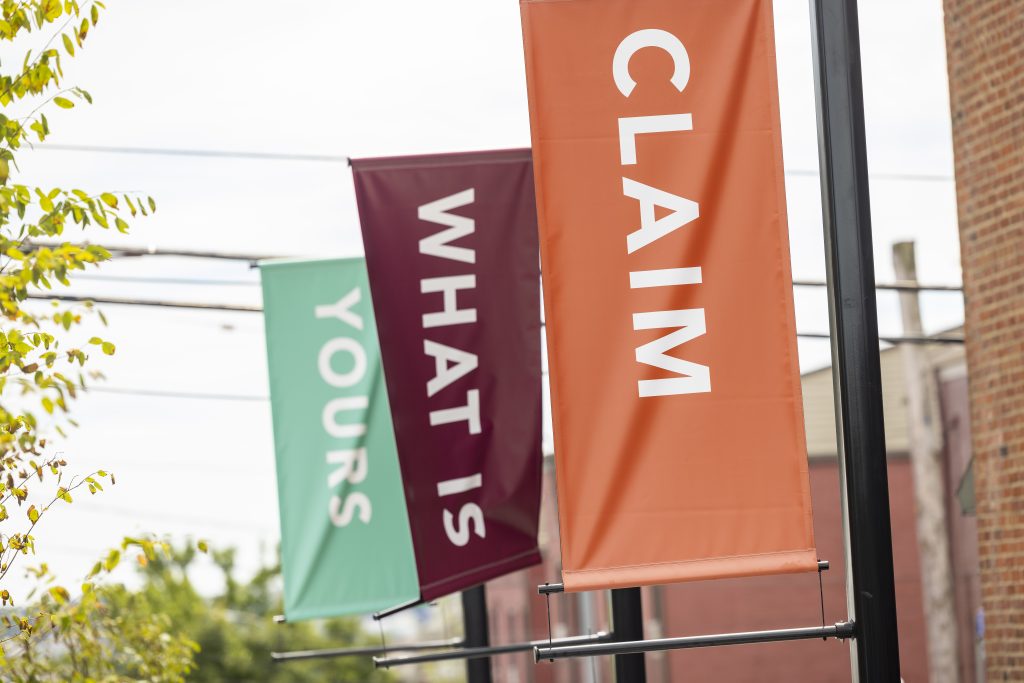 And now, there is the birthplace of Wilson, who coincidentally considered himself a poet before turning playwright. Though the two rooms where he was born at 1727 Bedford will reflect the 1944 timeframe of his birth, the remainder of the hHouse will be creative and meeting spaces.
At the grand opening, we danced and partied late into the night. Our joy, perhaps, kicking off what Ed Gainey, Pittsburgh's first Black mayor, had said should happen in the dawn: that every child in this city should know who August Wilson is.
"Today," Mayor Gainey said, "speaks volumes in how far we've come in recognizing African American history in this city and celebrating the heroes that came before us. Today is August Wilson's day."
The doors of his house are open.
Ervin Dyer is a writer who focuses his storytelling on Africana life and culture. He is a board member of August Wilson House.