The Madison Arts Center opening brings many full circle moments for founder Mark Southers
By Renee P. Aldrich
For more than 16 years, Madison Elementary School remained closed. Madison was one of many schools that the city shuttered due to a drastic population decrease in Pittsburgh's Historic Hill District. Once filled with the footsteps and laughter of children, the halls of Madison fell silent and empty – symbolic of the hollow building sitting atop a hill on Milwaukee Street. But this year its life returned when the building reopened as the Madison Arts Center.
As Pittsburgh Playwrights Theatre Company (PPTCO) celebrates its 20th season, the group can add the acquisition of Madison Arts to its list of accomplishments. Additional productions followed in April and June. The center opened to audiences with its first performances in March. Additional productions followed in April and June.
We want to debunk the idea that theater is too high brow for our community.

Neicy Southers, Director of Madison Arts Center
Mark Clayton Southers, founder and producing artistic director of PPTCO, and his wife, Neicy Southers, director of the Madison Arts Center, worked diligently to acquire the property and are still remodeling. The new center, which lives in the Schenley Heights (or "Sugar Top") neighborhood, will remain a place of learning with the goal of supporting individuals who want a career in theater.
"Among other things, this space will be used to teach," says Mark. "We'll be holding classes and workshops [on the] behind-the-scenes activities that make theater happen." He continues, "Our 'Ground Up Theatre Training' project [teaches] individuals …the trade of theater—lights, sound, make up, costuming, stage management, fight choreography, directing. These are the elements that create theater, and they are equally important as acting." Southers says the center isn't offering acting classes initially to ensure that they pace themselves. Although veteran performers Karla Payne and Rita Gregory are working with young students for PPTCO's upcoming production of "Joe Turner's Come and Gone" (running August 5 – 27 outdoors at August Wilson House), acting classes for the public won't begin until early 2025.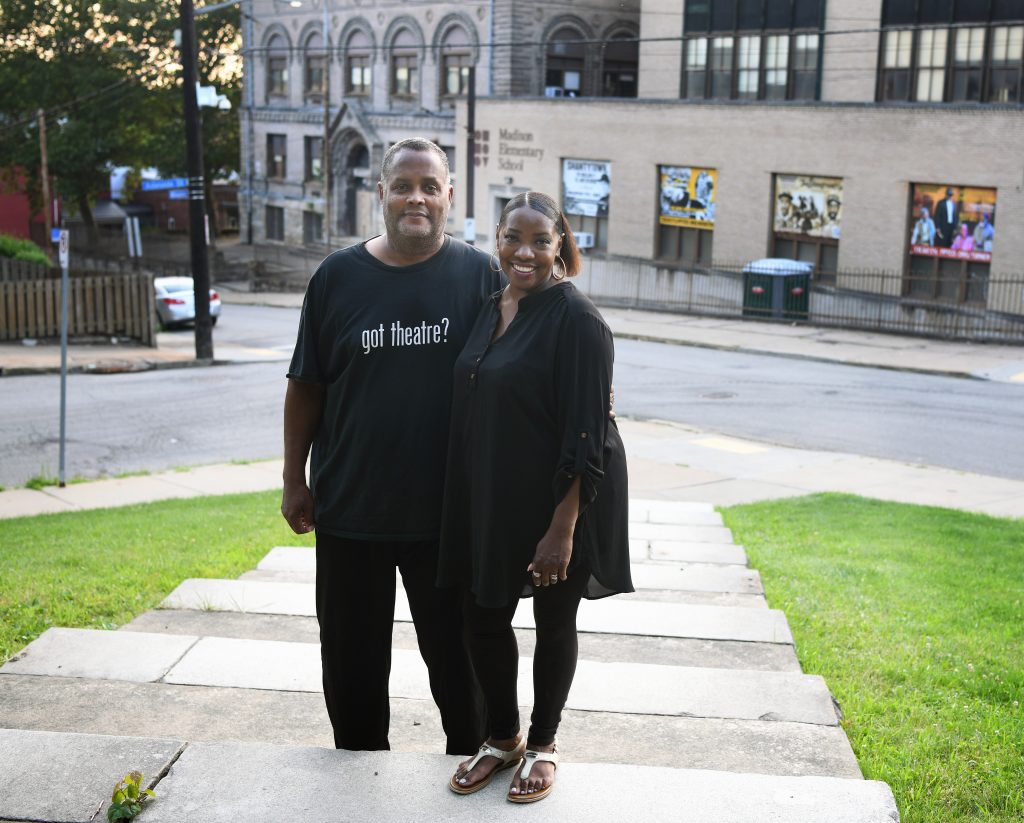 PPTCO's acquisition of Madison Elementary School is historic on many levels. In the late 1970s, Madison was a model of high-achieving, predominantly Black schools in low-income areas. The 120-year-old building was added to the National Registry of Historic Places in 1986 and added to the City of Pittsburgh Historical Places in 1999.
It is also a full-circle moment for Mark Southers, who graduated from Madison Elementary School in 1974. In addition, Mark's mother was an early pre-K teacher at Madison, and his 29-year-old daughter, Ashley, is a 2006 graduate.
Pittsburgh native and famed television actor Carter Redwood, a mentee of Mark's who stars on Dick Wolf's FBI: International (CBS), graduated from Madison in 2003. Redwood went on to attend Frick International Studies Academy and was invited back to Madison the following year, 2004, as a 6th grader to speak to the graduating class of 5th graders.
"When the Water Turns Clear" ran in the PPTCO's inaugural season (2003). Redwood auditioned and secured the role of the son of a store owner at a crossroads about the future of his store. Carter was only ten years old at the time, but Southers (who played the role of the store owner) says he was great, and his performative strength was already apparent.
"Carter demonstrated a keen sense of understanding about what a production might require," he says.
Redwood appeared in many other PPTCO productions and was also able to direct a play at the tender age of 13. Redwood's formal education in theater began at PPTCO and even led him to Poland to perform with the group. Today, he has an illustrious acting career, inspiring PPTCO to name its 150-seat theater at Madison after him: The Carter Woodson Redwood Theatre.
"It made sense to title this theater after Carter," says Mark. "[Although] it is unusual to so name a space while an individual is still living, he has accomplished so much in his short life. He wet his feet, so to speak, in PPTCO. He's been with us almost since the beginning and has made a name for himself. We just wanted to give him [his] props now."
Seven years ago, an acquaintance told Mark and Neicy about the building's availability. This was shortly after Mark had a near-fatal car accident in 2015.
Getting the building was one thing, but now comes the real challenge of putting in the work and doing what we know we can do.

Mark Southers, founder of Pittsburgh Playwrights Theatre Company
"I was actually still in a wheelchair and was experiencing a great deal of emotional upheaval," Mark said, "and just didn't see it as something we should consider at that time."
But in the middle of 2021, Mark found out that the building was once again for sale. Three different offers had already been submitted to the then-owners of the property, the Schenley Heights Board. The Southers discussed the pros and cons of taking this giant leap of faith, and particularly what it would mean financially. Deciding that the stars had aligned for them to move forward, they made a bid on the building.
(Left) Artwork, discovered when the building was being restored, is now stored in a glass case on the second floor inside the Madison Arts Center. (Top Right) Cast members Kevin Brown and (bottom right) Michele Betts practice their lines during a rehearsal of the play "Joe Turner's Come and Gone" at the Madison Arts Center, July 12, 2023. Photo Credit: Nate Guidry Photography
By then, Mark's body was healing. And they were ready to secure a home for PPTCO. "It was definitely time for us to be settled in one location. We were just tired of others having absolute control of our movements, because the space we were in belonged to them," Neicy recalls. "Also, with us being away from the theater space on Liberty [Avenue], our props and other materials have been in storage for seven years. So, we went for it."
Their commitment to this effort was solidified when the couple put together pensions, savings and secured support from family members. On July 21, 2022, they closed on the property, and the Madison Arts Center became a reality.
Currently, there are only seven Black theaters in the United States that own their own space: Black Ensemble Theatre (Chicago); West Coast Black Theatre Troupe (Sarasota, Florida); Arena Players (Baltimore); The Ensemble Theatre (Houston); National Black Theatre (Harlem, New York), and Hatiloo Theatre (Memphis). Now, Pittsburgh Playwrights Theatre Company has joined this illustrious group.
"Getting the building was like hitting the lottery, and [I] am still rather numb," says Mark. "Because getting the building was one thing, but now comes the real challenge of putting in the work and doing what we know we can do.
It was definitely time for us to be settled in one location. We were just tired of others having absolute control of our movements."

Neicy Southers, Director of Madison Arts Center
"I haven't gotten to the point where I can totally appreciate what this acquisition actually means on a national level yet," he adds. "I just know we need to be in here locally doing the everyday work, being consistent and clear in our intentions [while] facing the challenges and all…. We recognize that there will be folks who don't see [the vision], but we gotta be okay with that because God gave this dream to us and not them."
The husband-and-wife team seeks to build up their local impact by making the facility and PPTCO a premier organization that is pouring back into its community.
Neicy says, "We want to debunk the idea that theater is too high-brow for our community. We want to make it nice and easy for our people to see this as a 'resting place' that won't break their bank." Plans are in the works for community nights for Schenley Heights residents, who will either get a discounted rate or be invited to pay what they can.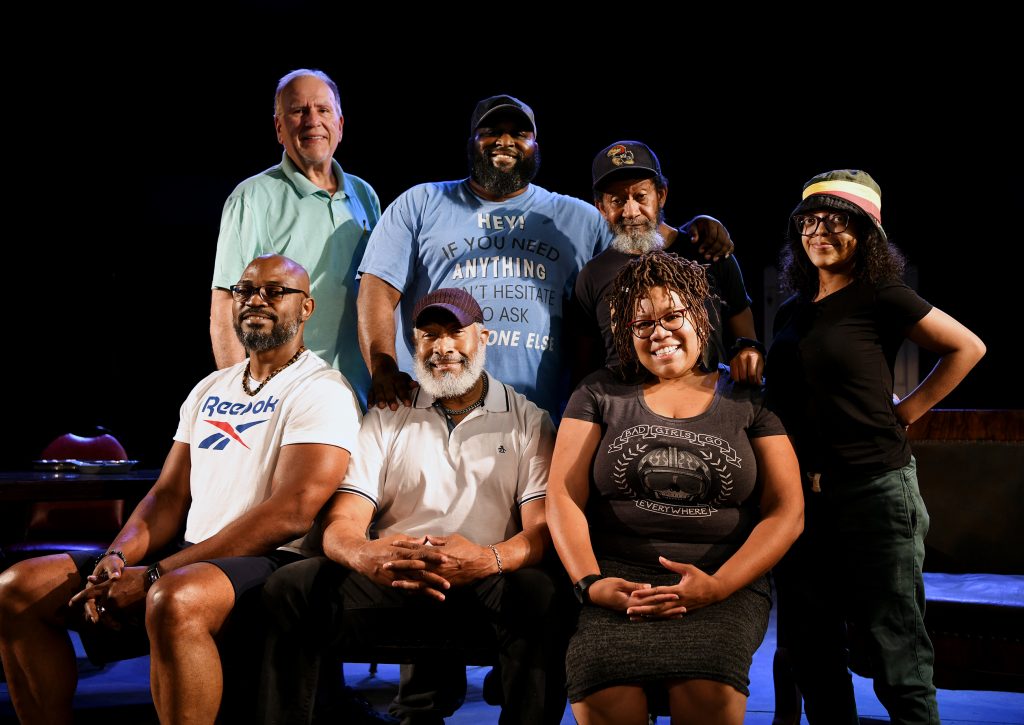 "The bottom line is we know there is joy in the arts. There is peace in what theater can provide for folks. We want to be a catalyst for a change of mindset of our people around theater," says Mark.
"That is who our target audience is – that family/individual who has not made theater a priority, because life gets in the way," Mark adds. We feel if we do this and if we follow through in our aim to expose folks to [opportunities] through 'Ground Up,' then we will have begun to achieve our mission and vision – and the effort, the hard work, [and] overcoming the challenges, all will have been worth it."
Renee Aldrich is an independent journalist who covers the Black community of Pittsburgh.