A little over two years ago, YES was rocked to its core as several of their precious youth were gunned down by teen-initiated gun violence. Six of their long-term participants were among those who died senselessly – three more youths had close family members who died at the hands of gun violence. These horrifying actions occurred in a short span of time – which felt more like eternity. Because of the wounds, the hurt, and grief left behind, YES felt no other cause than to keep all their youth alive. With this effort, YES adopted the theme "Year of Peace and Non-Violence". Since then, YES has dedicated over 40% of their time, resources, and efforts toward addressing youth gun violence with the help of foundations and PCCD.  Their first major effort was a teen violence prevention summit held in the summer of 2022; following this positive activity, YES garnered a significant number of collaborators and interested stakeholders. A few committed agency partners have grown into a respectable cohort of like-minded community-based agencies and stakeholders who feel that the collective approach is a viable option to build our prevention strategies around.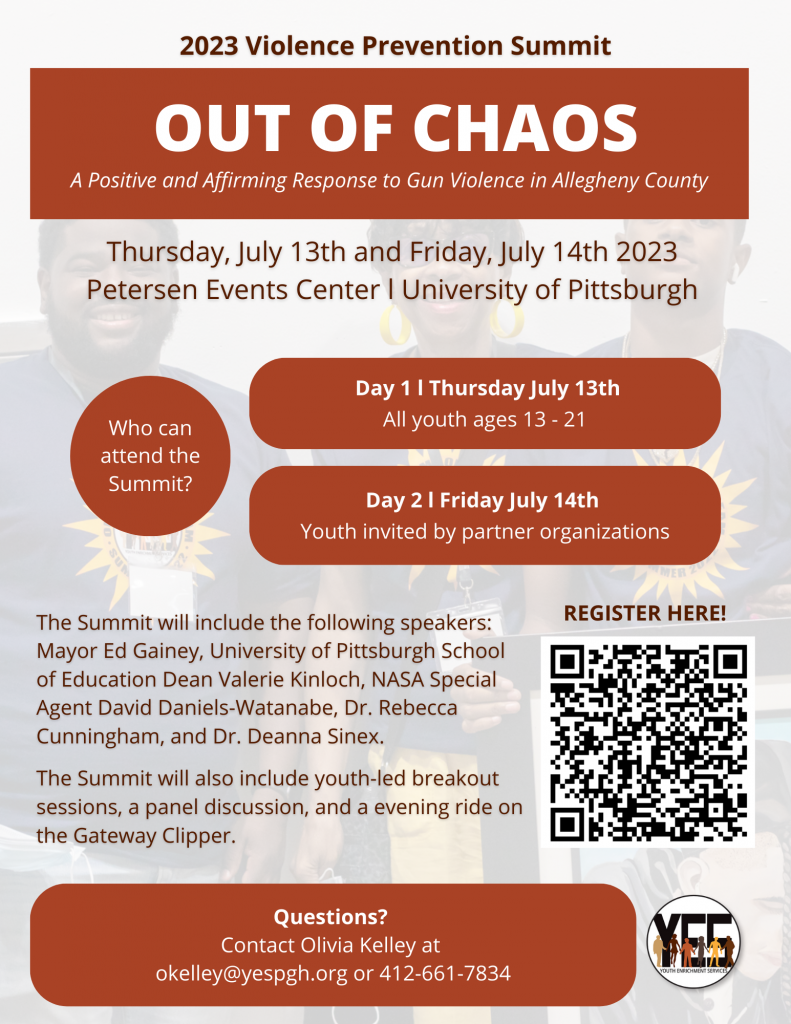 This year's summit/symposium, Out of Chaos, A positive and affirming message regarding Violence Prevention in Allegheny County, will occur on Thursday, July 13th and Friday, July 14th, 2023, at the Petersen Events Center on the University of Pittsburgh campus. Up to this point the efforts of YES have focused on addressing youth trauma, processing grief, and helping youth deal with hurt and pain. They have come to believe that it is now time to focus on growth, on creating more optimistic, resilient young people in the post pandemic environment. Although, in some cases, they are battered, bruised, and knocked down,
YES purposely and willfully want to give them hope and direction for the future. They want to allow them to feel whole and healed and therefore this year's summit has evolved into a symposium directed by the most skilled, expert, and qualified youth professionals and stakeholders who will allow youth to develop strategies, new ideas, and new ways of looking at themselves, in a social environment of their peers. Youth will attend presentations, panels, discussions, and other pro-social experiences.
Participants can register here.