Gwen's Girls, a Pittsburgh-based nonprofit that provides gender-specific programs, education, and experiences to girls and young women, will virtually host its 6th Annual Equity Summit and Awards Reception September 22-24, 2021. The summit, Beyond Surviving: Engaging Schools, Systems and Families to Support Black Girls Thriving, will focus on transforming public systems to fully support Black girls' educational needs, allowing them and their parents to thrive.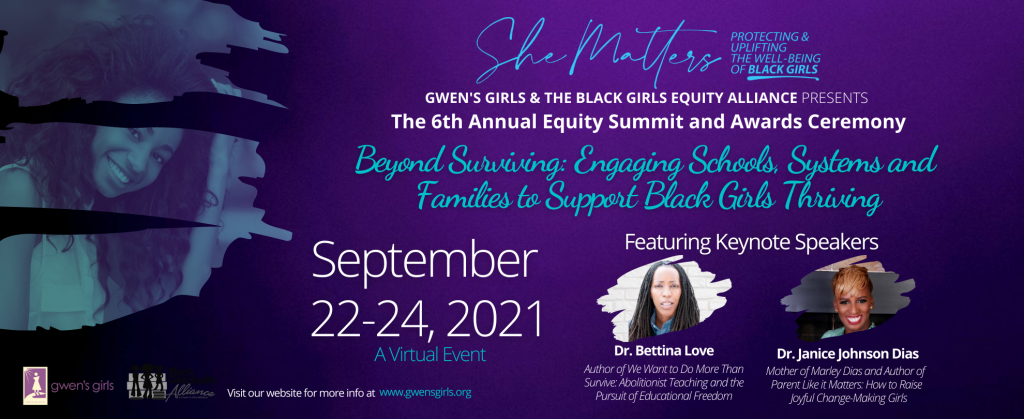 The three-day summit features an in-person She Matters Award Ceremony and Reception at Nova Place, Outdoor Plaza, 100 South Commons, Pittsburgh, PA 15212, and a two-day virtual summit. 
Hear from local and national speakers, including keynote addresses delivered by Dr. Bettina L. Love and Dr. Janice Johnson Dias. Dr. Bettina L. Love is an award-winning author and the Athletic Association Endowed Professor at the University of Georgia. Dr. Love focuses on how educators working with parents and communities can build communal, civically engaged schools rooted in Abolitionist Teaching with the goal of intersectional social justice for equitable classrooms that love and affirm Black and Brown children; and
Dr. Janice Johnson Dias holds a Ph.D. in Sociology from Temple University, specializing in urban and political sociology. Her research focuses on impoverished mothers and children. Her work on welfare-to-work organizations has appeared in a top-ranking policy periodical and well-respected sociological and psychological journals. In addition to her academic career, Janice specializes in building coalitions dedicated to sustainable social change. 
For more information, visit gwensgirls.org.