Friends and Family Initiative, FFI, started as a local choir in 2015, directed by Co-Founder/Executive Director Parrish Davenport. In 2018, the nonprofit expanded and began developing community initiatives and programming for youth and adults in the Greater Pittsburgh region.
FFI's mission is to holistically transform communities by providing opportunities for individual/family growth and development by providing programs and initiatives in leadership and workforce development, the arts, violence prevention, and community collaborations.
FFI is intentional about improving the experiences of individuals and families within communities advantaged and disadvantaged. They bring holistic transformation to the Pittsburgh and Greater Pittsburgh communities, focusing on four core areas modeled after The Circle of Courage philosophy. New programming is designed to equip, build, and support our friends and family's growth and development.
Friends & Family Initiative will provide 2 Great Youth Programs beginning September 19th this fall. If you have youth between the ages of 13-18, you can register today by scanning the QR code or contact Friends & Family Initiative via email at [email protected]. Youth will receive a stipend per session. Please unite with them as they launch programming by sharing with your network.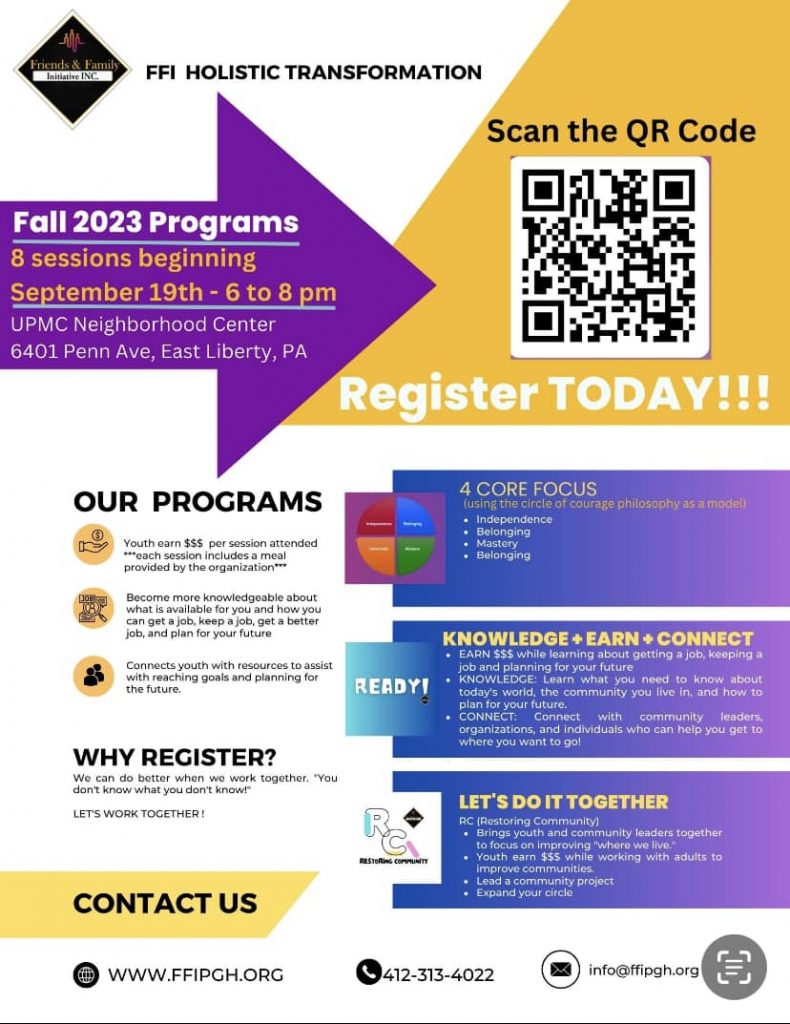 Contact Friends & Family Initiative at 412.313.4022 or email [email protected] for more information.