Healthy Start Hosts Black Birth Expo at the August Wilson African American Cultural Center
Black Maternal Health Week takes place April 11th-17th to bring attention and action to improve Black maternal health. Held annually on April 11-17th, BMHW is a week-long campaign founded and led by the Black Mamas Matter Alliance​. They strive to build awareness, activism, and community-building​ to amplify ​the voices, perspectives, and lived experiences of Black Mamas and birthing people. 
The Black Mamas Matter Alliance​ (BMMA) is a Black women-led cross-sectoral alliance that centers Black mamas and birthing people to advocate, drive research, build power, and shift culture for Black maternal health, rights, and justice. They are thrilled to reveal the official​ theme for Black Maternal Health Week 2023 (#BMHW23):​ "Our Bodies Belong to Us: Restoring Black Autonomy and Joy!"
According to the CDC, Black women are three times more likely to die from a pregnancy-related cause than White women. Factors such as a variation in quality healthcare, underlying chronic conditions, and structural racism can all contribute to the disparities. Social determinants of health may also prevent people from racial and ethnic minority groups from having fair physical and emotional health opportunities.
In celebration of Black Maternal Health Week, Healthy Start is hosting a Black Birth Expo on Saturday, April 15th, 2023, from 12-6 pm at the August Wilson African American Cultural Center.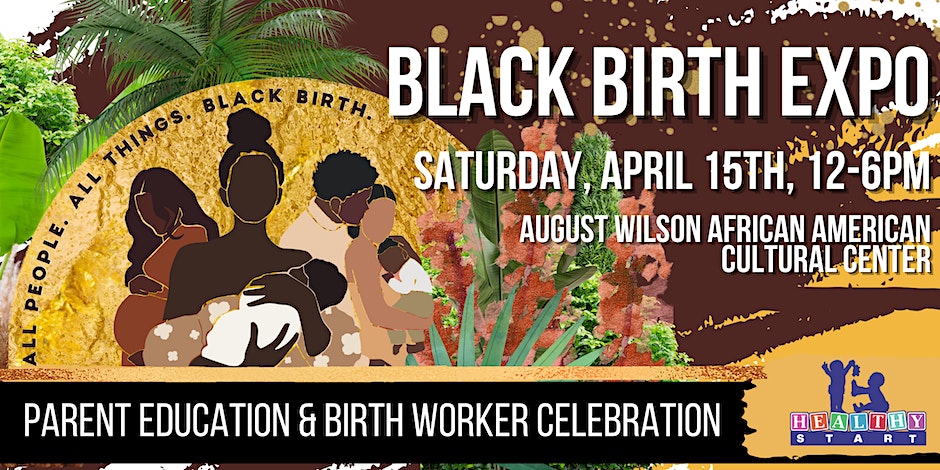 The event is for pregnant women, a parent, birth workers, community members, and anyone passionate about health equity. The Black Birth Expo strives to uplift birth workers and advocates dedicated to improving maternal and child health.
The keynote speaker, Christin Farmer, is a Black mother, trained doula, and founder of Birthing Beautiful Communities. Birthing Beautiful Communities is a nonprofit perinatal support agency that trains doulas and matches them to pregnant and postpartum mothers in Clevland, Ohio.
Click here for free tickets or upgrade for the VIP experience.