The Black Women's Policy Center (BWPC) empowers, centers, and acknowledges the full experience of Black women across all identities. They strive to be the leading source in our region for Black women's voices through shaping policy, shaping the narrative, and advocacy in the Greater Pittsburgh region and beyond. The BWPC is the home of the Black Women's Policy Agenda, a collective group of Black women from the non-profit world and the community at large joining forces to address the complex challenges Black women and girls across all identities face in the Pittsburgh region.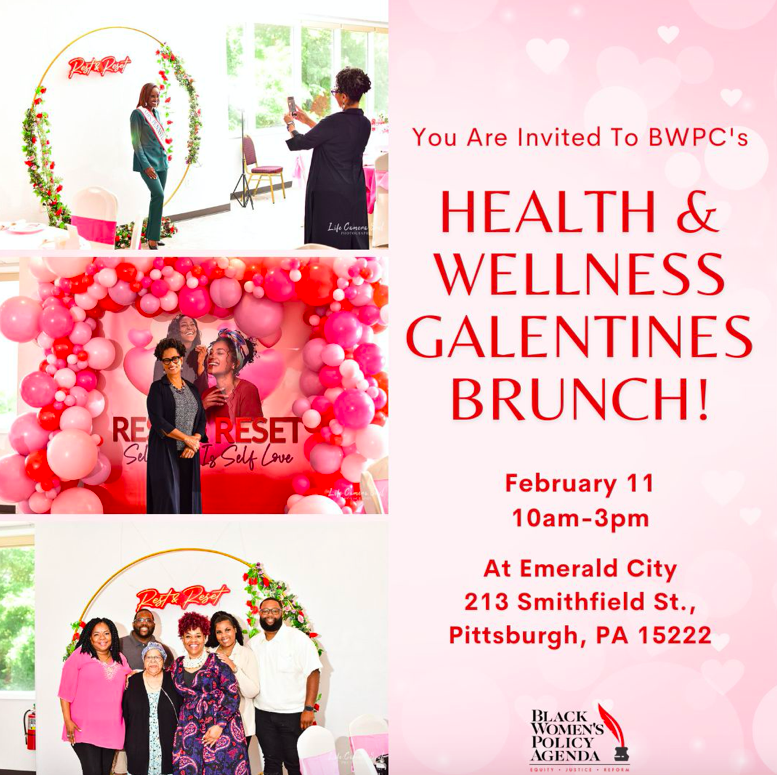 The Black Women's Policy Center is taking steps to expand its footprint in the region with a second office located in the Mon Valley at 1050 Lincoln Way in McKeesport. It will hold its second Health & Wellness Brunch fundraiser. The brunch fundraiser is Feb. 11, 2023, from 10 a.m. to 3 p.m. at Emerald City, 213 Smithfield St., Pittsburgh, PA 15222, and proceeds from the event will support the Black Women's Policy Center's mission to be a leading source for Black women's voices by empowering them through policy and advocacy work.
Following last year's sold-out Rest & Reset brunch, this event will have a Galentine's theme, focusing on Black-owned businesses and self-care.
At the brunch event, attendees will hear from experts on the benefits of self-care and meditation. They also will have the opportunity to see various self-care presentations and enjoy chair and hand massages. The event will feature the Black Women & Girls Expo, where attendees can support local Black women-owned businesses. Plus, there will be games and other family-friendly activities.
Members of the media are invited to tour the new office space with a Black Women's Policy Center representative by appointment.
Tickets can be purchased here.