1 Hood Media Academy is starting the new year with a new podcast, Ask A Black Lawyer. The show, which is supported by the Allegheny County Bar Foundation and hosted by Miracle Jones, ESQ, will air every fourth Thursday of the month. The goal is to help the community navigate the legal system and learn more about the legal profession.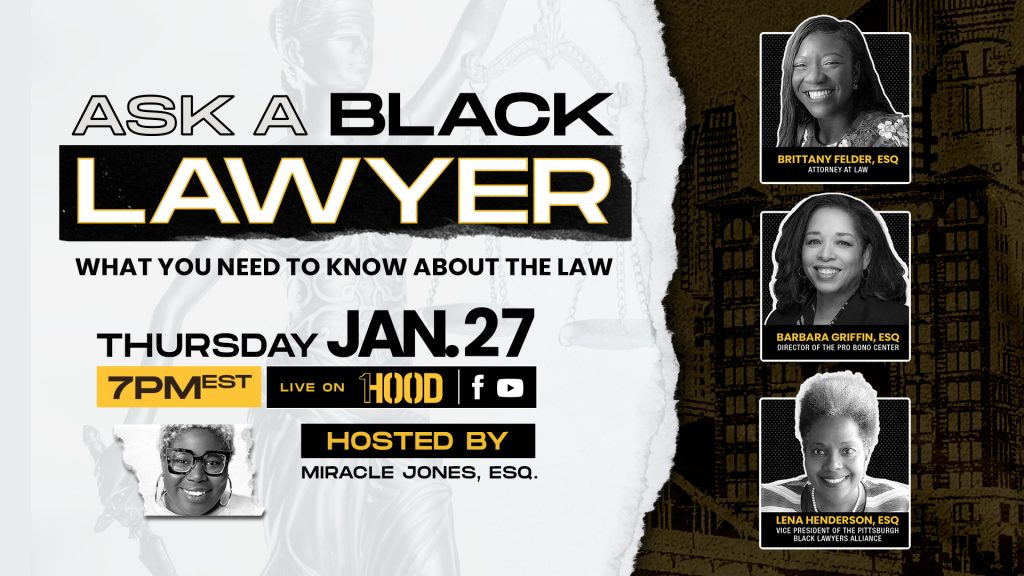 The episode, What You Need to Know About The Law, will air on Thursday, January 27, 2022. Panelists include Brittany Felder, ESQ, Attorney at Law, Barbara Griffin, ESQ, Director of the Pro Bono Center, and Lena Henderson, ESQ, Vice President of the Pittsburgh Black Lawyers Alliance.

Recently, the American Bar Association reported in their 2021 Profile of the Legal Profession that Pittsburgh has less than 3% of law firm partners of color, which is the lowest percentage of any large city in America. In Pennsylvania, there are no Justices of Color on the Pennsylvania Supreme Court, and Black women make up less than 3% of attorneys. The show will shed light on topics such as this and provide expert insight to support for Black residents in Pittsburgh and across Southwestern Pennsylvania who are disproportionately impacted by gender and racial inequities.