What: As part of an initiative to educate and mobilize young voters, 1Hood Media CEO and Co-founder Jasiri X will host an intimate conversation about race and social justice this Thursday with Dr. Yusef Salaam, activist, author politician, and one of five Black and Latinx teenagers wrongfully convicted in the 1989 rape of a jogger in New York City's Central Park. In July, Dr. Salaam was declared the winner of the City Council primary race in Harlem. Attendants can ask questions, share information, and continue conversations about how they can play an active role in the political system. Registration is required; tickets are $10.

Who:
● Jasiri X, 1Hood Media Co-founder and CEO
● Dr. Yusef Salaam, activist, author, politician, and member of the Exonerated Five

When: Thursday, October 26, 2023 at 7 p.m. EST (Doors Open at 6:30 p.m.)

Where: Blaxk Box, 460 Melwood Avenue, Pittsburgh, PA 15213

Why: The People, Politics, and Power event series aims to increase voter engagement and deepen democracy. The popular series also promotes 1Hood Media's Five Pillars of Engagement by supporting art and culture, education, media, activism, and collaboration through the lens of social justice.

Photo Op: Panelists will be available for photographs and interviews after the event.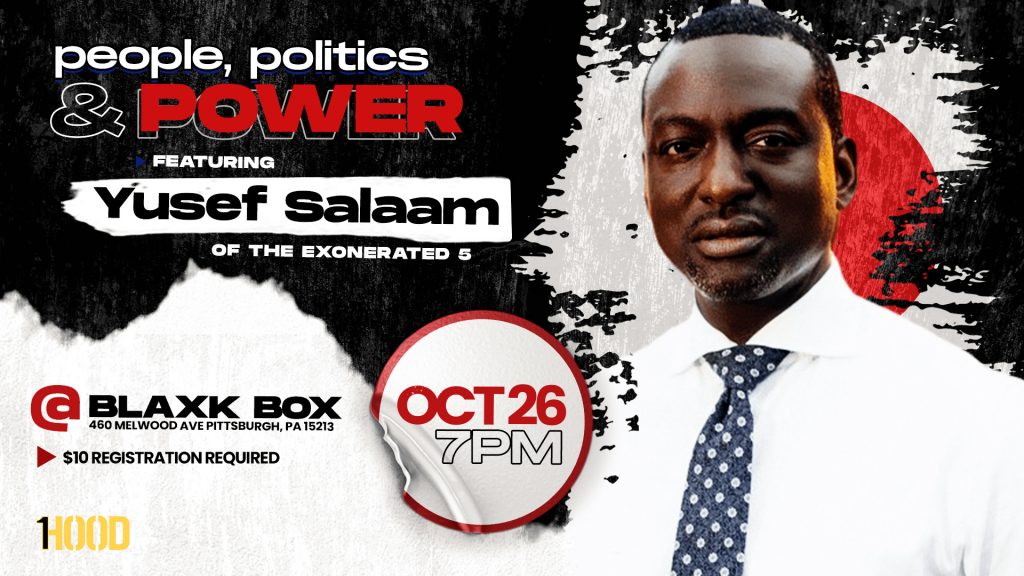 In July, Dr. Yusef Salaam was declared the winner in the Democratic primary for a seat in New York's City Council, representing Harlem. He is set to take office in January 2024. In 1989, at just fifteen years young, Dr. Salaam and four other Black and Latinx young men were tried and convicted in the "Central Park Jogger" case. The Exonerated Five spent between seven to 13 years behind bars for crimes they did not commit. Their sentences were overturned in 2002. Since then, they have received a multi-million-dollar settlement from the city of New York for the injustice and have been profiled in award-winning films, including The Central Park Five documentary from Ken Burns, Sarah Burns and David McMahon and most recently the Emmy award-winning Netflix limited series When They See Us, written and directed by Ava DuVernay. Over the past two decades, Yusef has become a family man, father, poet, activist and inspirational speaker. He continues to utilize his platform to share his story with others and educate the public about the impact of mass incarceration and police brutality rooted in our justice system.