Free Speech TV recently welcomed 1Hood Media to the network as a content partner. Free Speech TV is a 24-hour television network and multi-platform digital news source, currently available in 40 million homes nationwide. The network will air 1Hood Media's podcast This Week in White Supremacy. Recently, 1Hood Media celebrated its 100th episode of the program, which is hosted by the 1Hood team — Jasiri X, Farooq Saïd, Miracle Jones and Treble NLS. The program discusses the weekly injustices and cultural effects of white supremacy with intelligent, insightful commentary.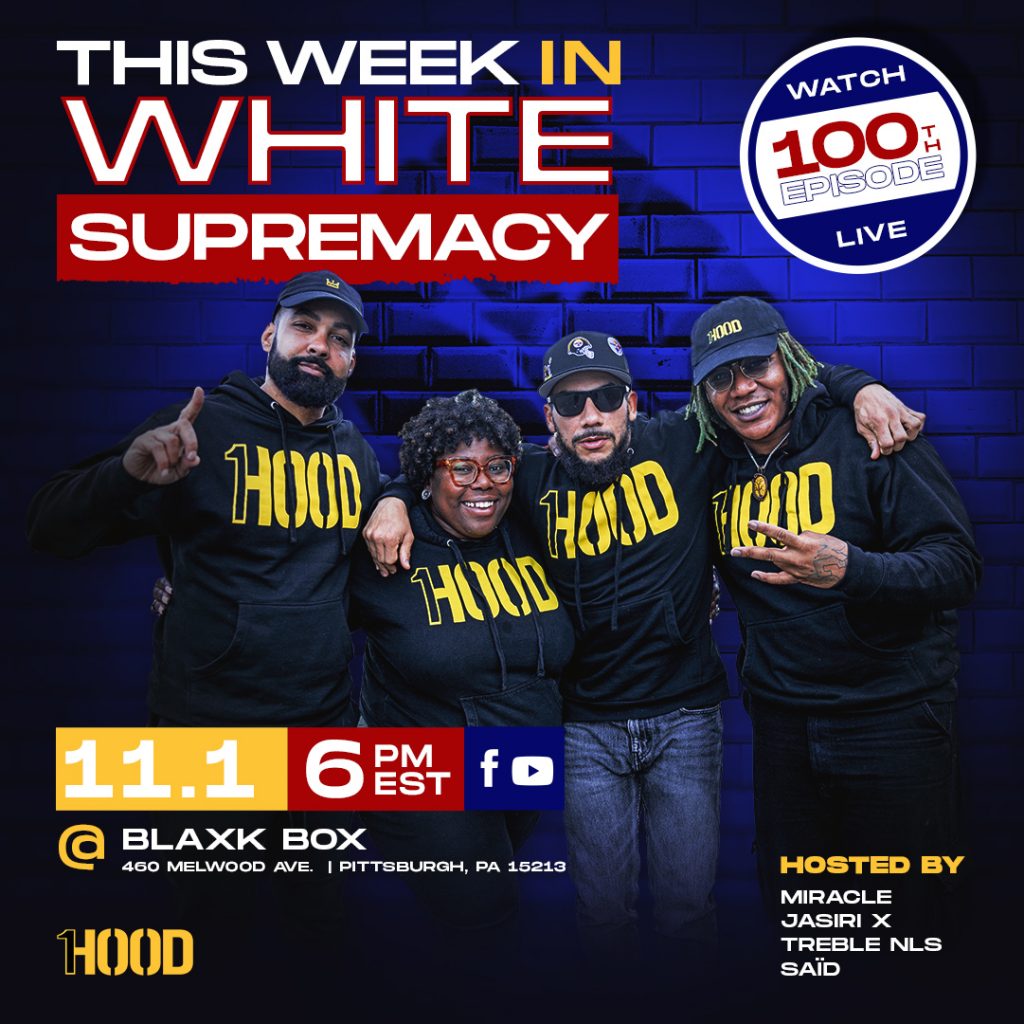 "Free Speech TV is proud to collaborate with and welcome 1Hood Media to the network as a content partner," said Rafael Espinoza, Free Speech TV general manager. "Together with
content partners like 1Hood Media, FSTV is striving to be an essential independent media
vehicle for mobilizing social justice formations and guiding politically disaffected Americans toward the realization of a multiracial democracy."

"1Hood Media's efforts in Pittsburgh are in line with the civic engagement we all need to put forth to reach the realization of a true democracy," said Justin Taylor, Free Speech TV
programming director. "The series, This Week in White Supremacy is another example of 1Hood creating a standard to improve communities in Pennsylvania and the entire country. To mold entertaining, informative, and insightful media from the routinely hateful and harmful news we see in the headlines is another example of Black people making lemonade from the lemons this country has offered."

With episodes such as Neighborhood Narcissist, Under the Black Sea, and MAGA Gangs of America, This Week in White Supremacy is tailored for adult consumption. Comedic, yet raw by design, the podcast dishes the latest news and events with humor balanced with a side of Hip-Hop each week. The podcast debuted on October 1, 2020, to an audience of 800 YouTube subscribers, and has since more than doubled to 2,600 subscribers. The podcast has also received nearly 8,000 downloads across various platforms, such as Apple Podcasts, Spotify and Stitcher. New episodes are released weekly. For more information, visit Free Speech TV.