Remembering Pittsburgh Visual Artist Natiq Jalil
By BlackPittsburgh.com Staff
It is with heavy hearts that we report on the life and work of Pittsburgh's self-taught visual artist, Natiq Jalil, who met an untimely death shortly after we interviewed him. We could not have imagined that ours might be his last interview. The BlackPittsburgh.com family extends our deep heartfelt condolences to Mr. Jalil's wife, Crystal Noel Jalil, his daughter, his family, friends, students and the entire Black art community in Pittsburgh. His power as an artist was readily apparent to all of us. His career was unfinished, but his impact on the art world is enduring and indelible.
Natiq Jalil's earliest memories are set in the Smiley Court Housing Projects in Montgomery, Alabama. "Some of the buildings were kind of ratty and you could literally pull chalk from the drywalls." The young Jalil would use the chalky material from the rotting drywall to draw on the sidewalks of his neighborhood. He would draw his own version of the cartoons he would watch on Saturday mornings – "Looney Tunes, G.I. Joe, Space Ghost and Thundercats," he recalls, almost wistfully.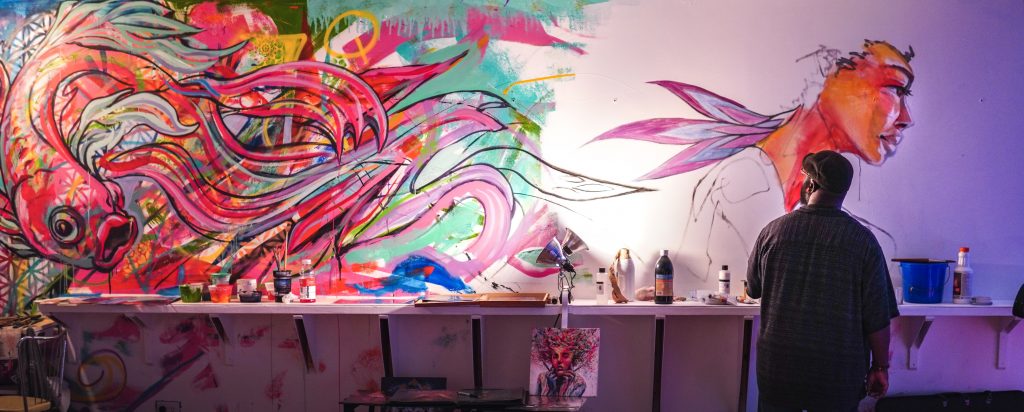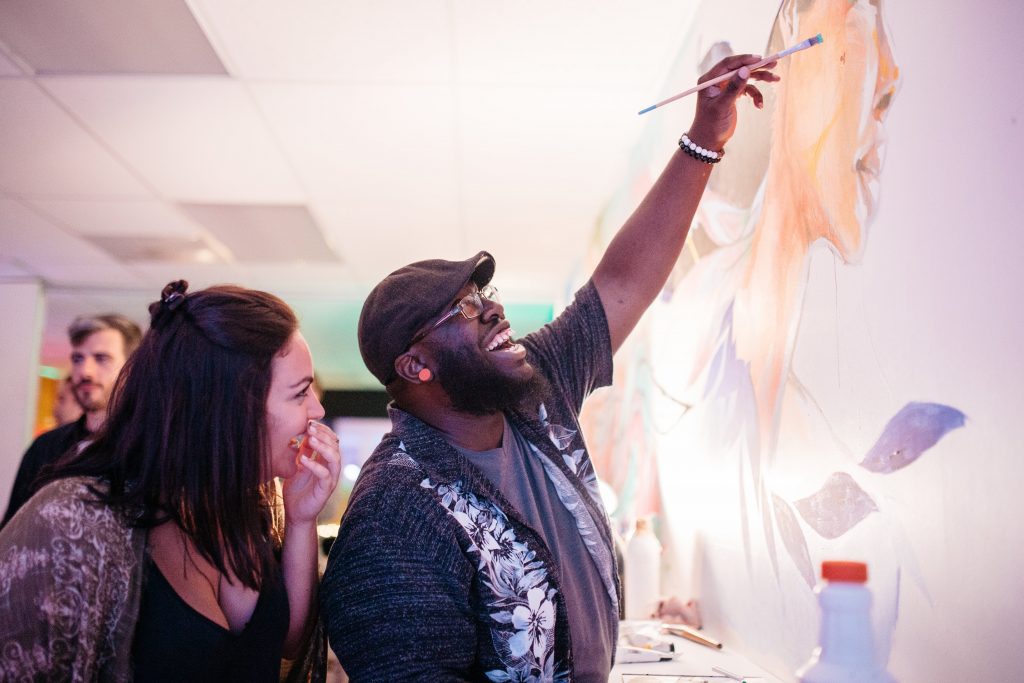 Although he was born in Alabama, being in a military family meant they moved throughout his childhood. Jalil attended middle school and high school in Denver, Colorado. During the Denver phase of his life, Jalil was deep into music – especially the trombone. "I loved the valve trombone," he says. "It was like a trumpet and more."
Jalil processed much of his education through the arts. Even through his love affair with the band and trombone, he continued to draw as much as possible. In order to better understand mathematics – he would draw the concepts out. He did the same for high school physics.
"For a while I thought that I would put away doing art because I was thinking that I wanted to be a scientist. I wanted to study quantum theory [and] to be a physicist," he said. Jalil attended college in Denver as well — first at Colorado University and then at a "diploma mill" that he doesn't name, because like the Smiley Court Projects, it doesn't exist anymore.
Jalil's more formative education came through creating and performing at Brother Jeff's Cultural Café in the Five Points District in Denver. "I started doing spoken word and my visual art there and [got] deep, deep into the culture there," he says. "That's what eventually led me to coming to Pittsburgh for the first time."
(Top) Jalil at The Cultural District's Fall Gallery Crawl 2022. Photo Credit Seth Culp-Ressler. (Bottom) Jalil joined area artists for The Black Lives Matter Mural in June 2020 under the Fort Duquesne Bridge along the Allegheny River. Photo Credit: Emmai Alaquiva
At Brother Jeff's, Jalil was still finding his voice as a visual artist. "I didn't have a style yet," he explained. I was still listening to my parents who thought that I would never be able to make it as an artist, he said. "My parents would tell me that they didn't feel like art would really take me anywhere. And my dad was convinced I wouldn't be able to become a successful artist because I've never finished anything." But ultimately Jalil embraced the words of his parents as a challenge that launched his powerful entry into the art world.
After college, when he was about 25, Jalil was in a quandary. He abruptly became a single father as the mother of his very young daughter decided to opt out of parenting. "So now I had to figure out what to do," he recalls. "All of my family had moved away from Denver and some of them had moved to Pittsburgh." He wanted his 18-month-old daughter to know family, and his mom, siblings and other relatives were all in Pittsburgh. So, he made his way to the Steel City, still holding tight to his dream of being a visual artist.
"When you become an artist," he said, "there's this fine print that we never read that says business owner." Jalil hated his day job – at this point, he was working in an admin role for a local "degree mill" not unlike the one he attended in Colorado.
While contributing to the Black Lives Matter Mural painting in 2020, Natiq reflects on the power of art: "So long as art is preserved, the truth is preserved." Video by Ya Momz House, Inc.
"I really felt like if I wanted my daughter to live her dream, I had to live mine," he says. He started asking coworkers if they would come out to one of his art shows. He was almost surprised when many of them said yes. But something was still holding him back. "I had that ringing in my head: 'You never finished anything. You never finished anything.' I used to agonize over that. I used to sit in front of canvases and not do any work because I'm hearing my dad's voice: 'You're never going to finish anything.'"
As a budding artist, Jalil believed that in order for a piece of work to be considered complete, the whole canvas had to be "covered up." To look at his art now – knowing that he wrestled with space on the canvas – is an aesthetic revelation. Jalil's visual art is BIG. It takes up space and at times his canny manipulation of space on the canvas is striking. Jalil uses water colors and various mixed media approaches to render visually stunning pieces that grant grace to the spaces on the canvas.
Before his first breakout show in 2011, Jalil did some work with one of his mentors, Hashim Malik-Bey. Malik-Bey lives in Texas but Jalil met him when he was living in Denver. "I kept sending him updates of where the work was going," says Jalil. "He was like, 'Oh, this looks really good. This looks really cool.' But at some point, I finished the work and I send it to him and he says, 'I kind of liked it better before it was done.'"
"And then it clicked. It just clicked," he recalled. Jalil redid the artwork. "There was a lot of white space. I didn't cover everything up and [Malik-Bey] was like, 'That's dope,' and I arrived at my style. And so I thought I'm going to do the entire show and I'm not going to finish. I'm going to stop the moment it feels good." In his Pittsburgh debut, Jalil sold almost everything off of the wall on the first night. Malik-Bey flew in for the show and told him on opening night: "You just changed your whole life."
"I've been working ever since," Jalil told us. He took some of his earnings from that first show and moved to New York City – the Bronx — in 2012. He spent three years there and made his living entirely off of his artwork. It was a sort of self-imposed "do or die" crucible for him. Jalil believed that if he could make a living as an artist in New York, he could do it anywhere. "Eventually what ends up happening in Pittsburgh," he said, "is that once you leave and they see that you're doing something somewhere else, they're like, 'Hey, can you come and do something here?'" He was happy to oblige and returned to Pittsburgh.
One of his first invitations came from RedFishBowl. He is still (even posthumously) a featured artist there. He eventually used RedFishBowl as a studio once he returned to Pittsburgh permanently. Jalil spoke fondly of his return to his adopted hometown and his (all too short) time here. He married his love, Crystal Noel Jalil, and together they launched the Coloured Section, a Black artists' collective. The Coloured Section was an organization built to capture the kind of mentoring and collaboration that Jalil realized was essential in his own evolution as an artist.
In our interview, Jalil spoke glowingly of the late George Gist, who passed away in 2020. It's impossible not to imagine that many in the artist community are now speaking Natiq Jalil's name in the same manner that he spoke of Gist just a few months ago. It's another unfinished piece of art – the relationship between a mentee and a posthumous mentor.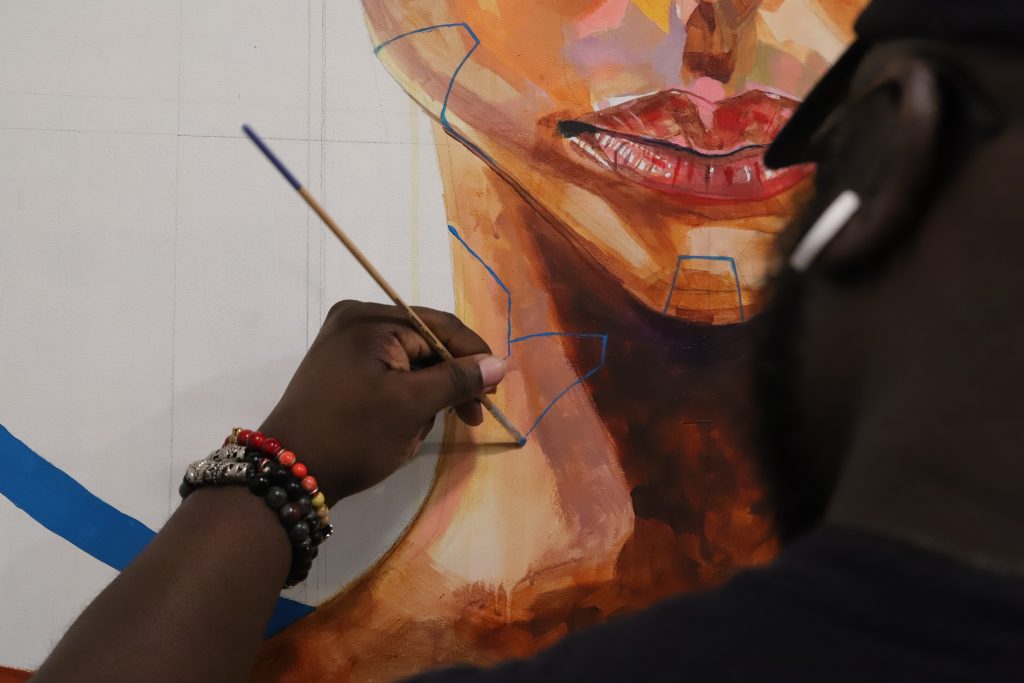 Natiq painting at the Pittsburgh Cultural Trust in 2022. Photo Credit: James Prude
"Where my art is now," Jalil told us, "is thanks to George Gist." In fact, the Coloured Section was Gist's idea. He felt that Black artists in Pittsburgh were too competitive with each other. "He wanted me to be the first member," says Jalil. "He wanted to leave everything (his art) to me when he was done."
Before our interview with Jalil ended, he shared some of his work in progress with us via Zoom. He was developing a show that was meant to be a tribute to Gist.
"In the same way that George taught me and allowed me to do shows with him," he said. "I'm bringing along my students and I'm bringing them into this show." Paying it forward, Jalil had planned to feature his students in his Gist show.
Natiq Jalil is done creating art on this plane, but his work will live on.
Jalil Natiq's prints and originals are available here and a gofundme has been created to support his family here.