Inside Michelle Gainey's journey from Westinghouse high graduate to Pittsburgh's first African-American First Lady.
By Renee P. Aldrich
Like her namesake, Michelle Obama, to whom she bears a slight resemblance, Michelle Gainey is a living example of an elegant beauty. Like Mrs. Obama, she prioritizes championing her husband and protecting her family. Mrs. Gainey is fully committed to keeping the lives of her minor children, especially, normalized in the midst of the fraught political winds swirling around them—and has been from Ed Gainey's stint as a State Representative through his transition into the Steel City's first African-American mayor.
The near polar opposite of her husband, Mrs. Gainey is decidedly low-key. Her home reflects this aspect of her personality; the warm muted tones in the perfectly apportioned living room, complete with quiet overstuffed furniture, emanate peace.
When I sit down with her for an interview, it is apparent that Mrs. Gainey is friendly, yet she takes a moment before she lets you in. But don't take her quietness for weakness. She listens intently and observes before speaking. The mayoral campaign team learned the hard way how fiercely protective she is of her husband, and how she has no problem speaking to any situation that threatens his welfare.
"It was okay that they were the total experts in all things having to do with campaigning; they were his strategists making things happen," she recalls having to put her foot down at times during the race for mayor. "And I was the expert in looking out for him. I considered it my personal priority to be conscious of his physical, mental and emotional well-being."
Mrs. Gainey brings her own particular brand of coping and ability to adapt to the table. She learned this lesson at an early age. Her first unexpected life transition came at about 5 years old. Her parents broke up and her mother, soon overwhelmed by going it alone, turned to public assistance. She, her brother and mother moved from Cora Street in Homewood to Chasky Street in Penn Hills.
Her mother, however, had other ideas of how she was going to raise her children. She took advantage of training opportunities, was able to get off welfare, and found work at Equitable Bank in the Hill District. From there she got a job with a major airline (with offices based in Greentree). This resulted in the family moving to Moon, making for an easier commute.
Watching her mother navigate through her life and her choices in order to provide for the family was evidence for Mrs. Gainey that hard work pays. After college, she was employed for 10 years at a well-regarded finance company. Soon a friend invited her to volunteer helping young men at the Allegheny County Court of Common Pleas juvenile probation program CISP (Community Intensive Supervision Program). The boys found Mrs. Gainey to be approachable, she says, and they began opening up to her. Having gained their trust, she would encourage them to pursue their dreams—rather than limiting their life choices to what they saw in the streets.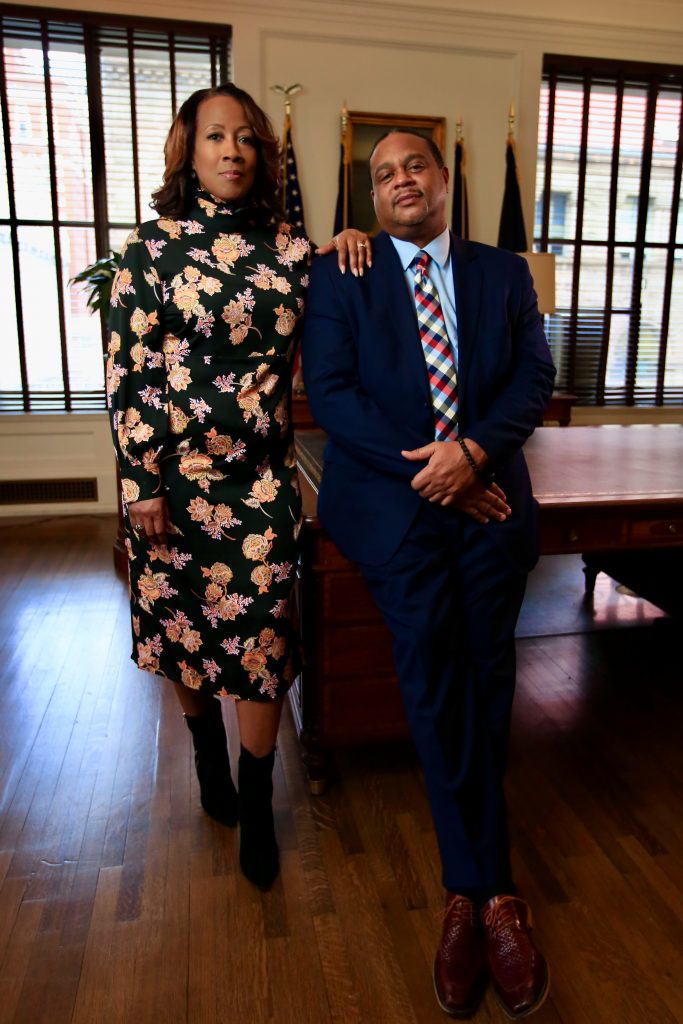 Following that, she held various social service positions, including one at the Urban League, where for four years she trained students to go into the hospitality and leisure sector.
Afterwards, she landed at The Goodwill Industries, an organization committed to providing an array of employment-related education and workforce development services for people with developmental delays.
"Once again, I found myself involved in work that allowed people to advance. There were approximately 16 programs in all and I operated as supervisor of the staff across these programs," Mrs. Gainey shared. "The staff was writing resumes, making connections with employers, setting up on-site recruitment, and basically helping participants get past their barriers so they could become self-sufficient."
Today, Mrs. Gainey is a consultant for a similar program, the Day One project, which helps single moms experiencing housing insecurity. This initiative allows moms to get their footing, and gain independence through a variety of workshops, like financial management/credit repair, restorative parenting, education and employment—the area where Mrs. Gainey steps in. The First Lady helps them assess where their education and employment levels in order to determine if both are in correlation with their goals. Together, they then establish a plan to get there.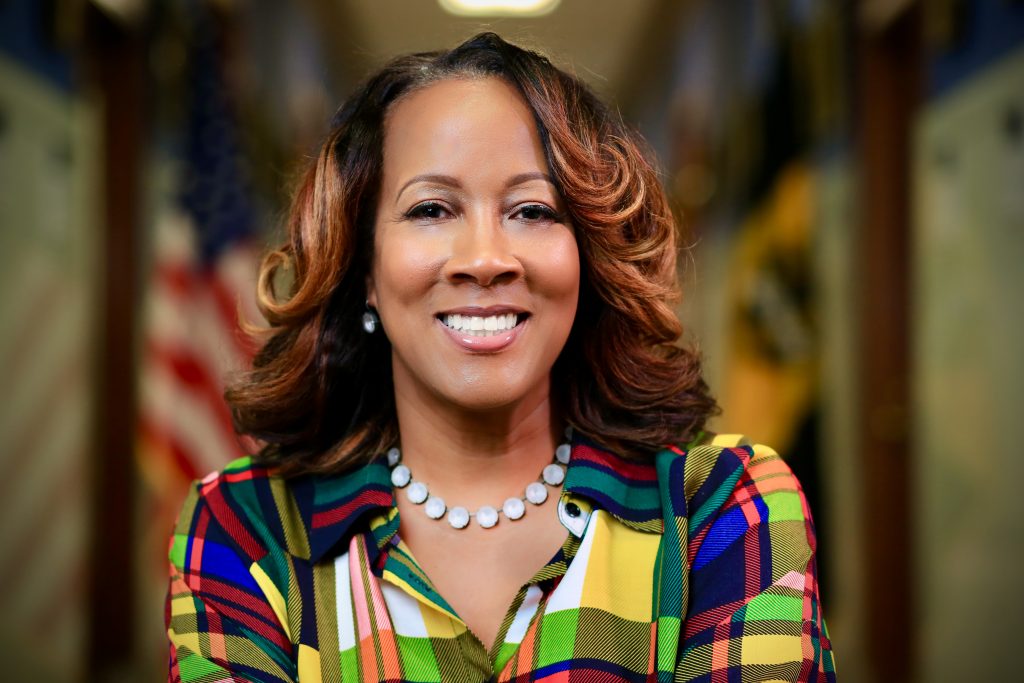 "I found that I really enjoyed being in spaces that allowed me to work with young people and see them do better," said Mrs. Gainey, who acknowledges that she thrives in any endeavor that allows her to "pour" into those who need support. "I know statistics would tell us a different story–one that says if we are at the low end of the totem pole, we are destined to stay there. Many of the young women (and men) I worked with needed to be encouraged that they had it within them to change their lives."
She continues: "They needed to see a lived experience that could model what their capacity could be. I shared mine: my mom broke up with my father, had to get on welfare, we moved from Homewood to Penn Hills to Moon–all to make a better life for us."
The First Lady says that opportunities to serve youth resonate with her because of her own upbringing, which, even after her mother moved the family to a better neighborhood, was not without its challenges.
Mrs. Gainey tragically lost her mother two years after the family relocated to Moon Township, and just after she was getting settled into a new high school.
Again, she came face-to-face with the need for quick re-adjustment. She and her brother would return to East Liberty to live with their dad, finishing high school at Westinghouse. She was a 10th grader struggling with grief and experiencing a total redirection of her life.
She found herself hurting, confused, and alone.
"I really don't think anyone at my school even knew I had lost my mother—no teacher, or even a counselor. I just know my dad enrolled us so we could not get set back in our education. And I had to somehow push through," she shared.
Conducting her life on autopilot, she pressed through with a maturity that belied her age. The events of her childhood laid the groundwork for developing the ability to adapt and re-adjust as necessary, skills she would need as she continued her life's pursuits, including marriage to a politician.
Her friend of 25 years, Crystal Nivens says, "It would make sense that she'd help others in finding their way, because she is definitely about supporting folks at a time of need."
She continues, "I believe she will bring that into her new role as Pittsburgh's First Lady, her consummate kindness, and genuine caring and her heart for Pittsburgh."
**************
By the time Michelle Coburn met Ed Gainey, she was already immersed in a career that involved building relationships, and making a difference in the lives of disenfranchised people. They married three years after that, and her well-honed skills of adapting have served her well in their union. His transition from his work in the mayor's office to State Representative for two terms, to becoming the first African American mayor to the City of Pittsburgh all had varying degrees of challenges.
First Photo: The Mayor and First Lady on Inauguration Day with family (right to left): daughter Alexa,14, son Darius, 12, daughter Mariah, 25 and her husband Demetrious Peoples. Second Photo (upper right): Mrs. Gainey with her youngest, Darius. Third Photo (lower right): Mrs. Gainey with her middle child, Alexa. Photo Credit: Emmai Alaquiva]
Mrs. Gainey approached them just as she faced the battles of her youth—with grace under fire.
"She has been committed to community success from the very beginning, always open to being part of the discussions while we represented the 24th district," says Melvin Hubbard El, Community Advisor to Mayor Gainey, who also served as his Chief of Staff during his eight years as State Representative. "She brings all the necessary elements to the table: she is principled, has integrity, and, while fully committed to her husband's vision, she knows how to represent her own individuality as well."
"Michelle has demonstrated strength throughout her life," says Mayor Gainey. "Her passion and desire to be a resource for others is a real thing. I've seen her be an encourager—even taking calls from people drowning in painful losses, helping them get through."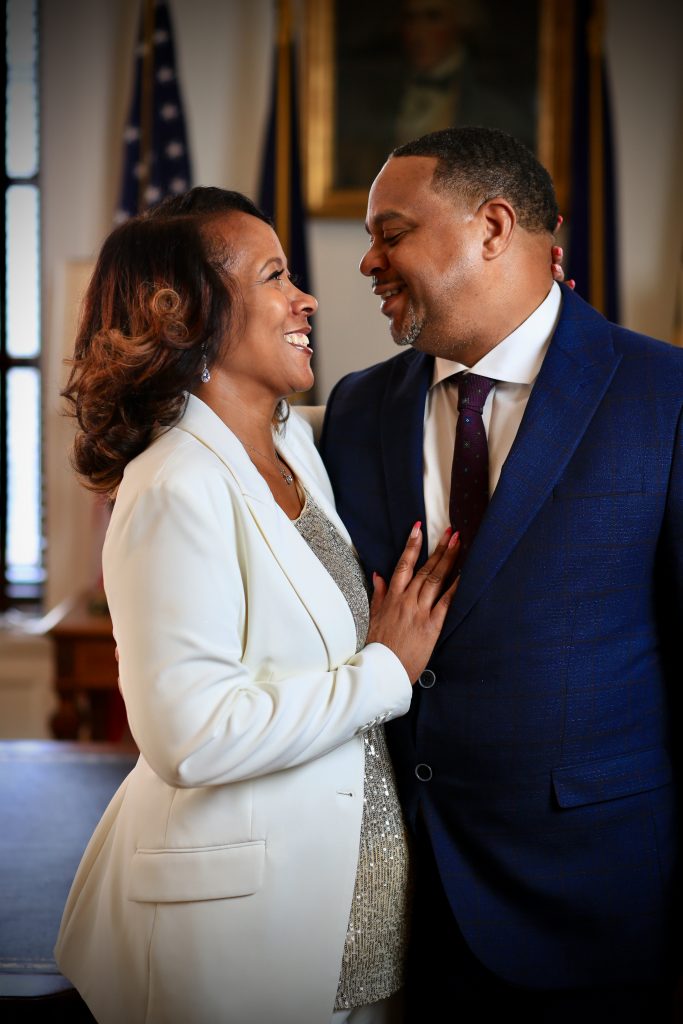 He adds: "I can't imagine being on a personal, professional, or political journey without her."
That she "had never been a Mayor's wife" was certainly on Mrs. Gainey's mind as she began to contemplate her new role as First Lady. From her brainstorming sessions with her staff and advisors, she realized there was no template for "First Lady" in Pittsburgh. It was also very important to her that whatever the platform, she didn't want it to veer too far from her husband's vision. Finally, she wanted a program she could make her own.
The criteria led to her signature project Pittsburgh Paints, monthly exhibits of local Pittsburgh artists on showcase in the Mayor's office. The goal of the project is to support the mayor's vision that Pittsburgh truly can be "One City."
The project invites local artists of all ages, ethnicities, races, communities, and neighborhoods to submit works of art around a theme each month. Mrs. Gainey and her team personally select the pieces for each exhibit. This summer's themes include LGBTQIA+ and Pride (June), photography (July), and Black Business and American Artists (August).
The effort has taken on a life of its own, providing a variety of additional opportunities for artists—from selling their work to obtaining entirely original commissioned independent projects. Additionally, Mrs. Gainey has urged parents of area students and Dr. Wayne Walters, Superintendent of Pittsburgh Public Schools, to encourage participating students to keep pursuing their artistic dreams. All further the hope that Pittsburgh residents can come together across the city's fictitious divides.
"We believe that people will begin to see their commonalities, like the desire for the same basic things—to feel safe, to acquire affordable housing, entrepreneurial access, and accurate information," she says. "The only thing different in the north, south, and east quadrants of Pittsburgh are origins and which side of the bridge they live on. The bridges that divide also actually give access and allow everyone to cross, to see that their life experiences are similar."
Renee Aldrich is an independent journalist who covers the Black community of Pittsburgh.