A Pittsburgh artist wants us to pack light – or at least imagine what that might feel like.
By Angela Bronner
When was the first time you envisioned Black people flying? For some, it was while reading about Solomon in Toni Morrison's 1977 novel Song of Solomon. For others, it was in dreams. For artist and documentarian Njaimeh Njie, it was during her mother's readings of Virginia Hamilton's book of Black American folktales, The People Could Fly. Its cover art splashed with images of Black men, women, and children soaring alongside the clouds. She also recalls the hymns and gospel songs of her youth, like "Fly Away Home."
The dream of Black people flying is one on a continuum – from our time in Africa, through the Middle Passage, and even into the hereafter, both preceding and outlasting us. And for Pittsburgh native Njie, Black otherworldly flight It is the inspiration for her current exhibit at Carlow University Art Gallery titled "Flight Plans."
"'Flight Plans' is a modern exploration of the legend of Black folks flying," the exhibit's press release proclaims. "Starting in the present, spirit guides in the form of "nightbirds" take a Black woman back through her history to reunite her with the wings her ancestors lost during the Middle Passage. In getting back to the origin of the story, she rediscovers her magic. When she does, she gets to decide how to use this knowledge of herself to take flight."
The exhibition centers collaged images created by Njaimeh Njie that evoke flight. Photo Credit: Evangeline M-A
"I'm fascinated by just the longevity of that story," Njie says. "Like the folklore of the legend, and thinking about its origins, or at least for Black Americans in the Middle Passage… the way we've always had command of that story and that flexibility of using the metaphor of flight for many different things. That's very powerful to me."
Njie says that Afrofuturism is also a North Star for "Flight Plans," which is part collage and part installation. The exhibit uses "found and documentary photos to build landscapes that form a runway back through time and across space" — a "chain of ancestors," if you will. The self-described 35-year-old 'history nerd' pulled on the real, the imagined, and the yet to be seen.
"I got a book last year called Black Diamond Queens, and it's about the history of Black women in rock and roll," says Njie. She says she delved especially deeply into a chapter on LaBelle, the seminal R&B and funk group made up of Patti LaBelle, Nona Hendryx, and Sarah Dash.
"Thinking about their costumes and their use of the idea of space travel as a way of thinking about the future—but addressing present issues and placing these ideas that they had about themselves for freedom and liberation in this imagined future—I was just really into that," she says.
Through furniture, music and voices, 'Flight Plans,' recreates feelings of home, flight and Blackness. Photo Credit: Evangeline M-A
Njie shares that her vision of "Flight Plans" also coincided with the stress and heaviness of the COVID-19 pandemic, as well as the rapidly fraying social fabric in the United States after the election of Donald Trump. It got her thinking about lightness, of being light enough to fly, "and just unpacking some of that baggage to think about flight in the metaphoric sense… that feeling of freedom."
Nije's work is driven by many questions that she lists off:" How can we use what we know or what we've experienced to imagine or build a better future? What does it feel like to be free? What does it feel like to have that agency to do all the things you want to have all the things you need?"
I asked Njie why it was important for her to document everyday Black people in her work. She did this in two past projects. One was "Homecoming," a public art and oral history project documenting residents of The Hill. The other was "Across the Walls," which is a collection of portraits of incarcerated women in Pennsylvania jails and prisons. It was commissioned by Let's Get Free and the Carnegie Museum of Art.
"Why is it not important?" she queries about the value of highlighting "regular" Black folks. "Because that's where most of us exist, right? I think it's so important to understand the way that we've lived, the places that we've lived, the ways that we've traveled, [and] the ways we've made home. Because history repeats itself. Right now, we're… in this constant loop."
Jazz, funk and R&B greats appear next to legendary authors like Maya Angelou, Toni Morrison and Virginia Hamilton. Photo Credit: Evangeline Garner
Njie began her career as a documentary storyteller, and "Flight Plans" is a pivot away from the familiar. But in moving from the historical and looking more at the imagined (and how they're intertwined), Njie speaks of a self-determination where we decide what we will carry with us into the future, laying our "baggage" (our traumas) down.
"When I did research, there were headlines and stories I was reading about neighborhood development and youth needing things to do to keep them off the streets from the 1920s," she continues. "They're 100 years old, and we're still talking about the same thing. How do we keep some of what's brought us here, but also, how do we stop the cycle of what's kept us down? And obviously a lot of that is beyond our control. But I think it's just important for us to know something about ourselves and how special we are. "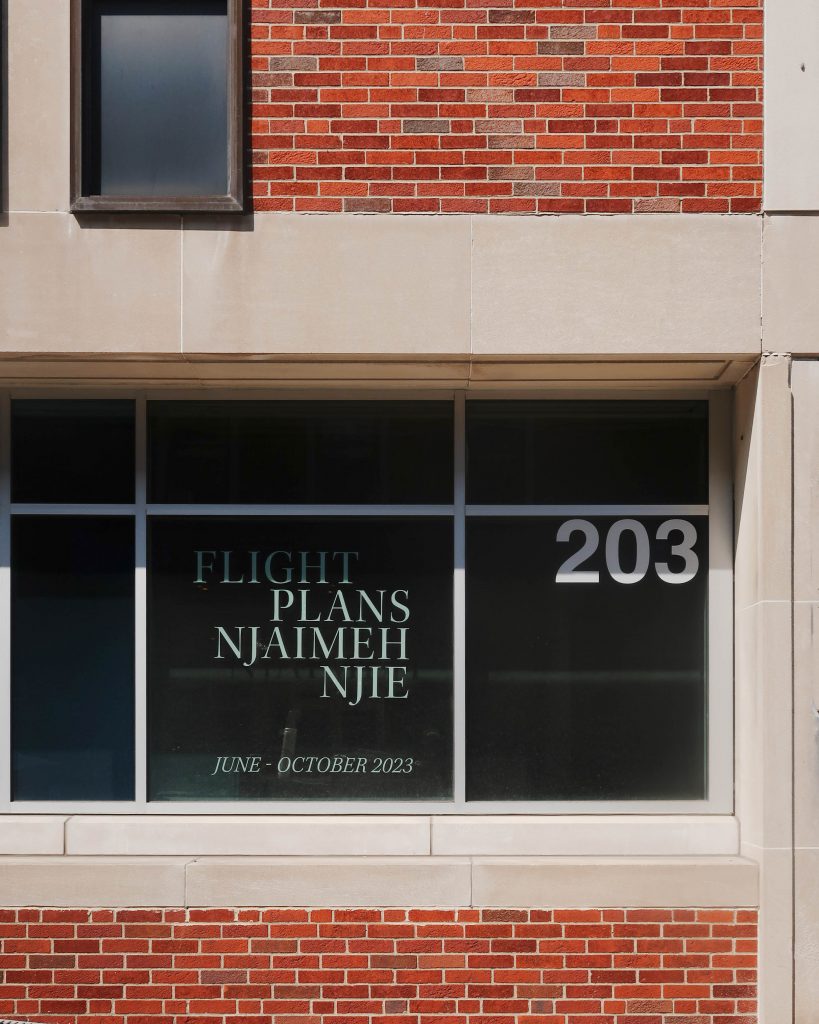 Njie also sees Pittsburgh and growing up in Pittsburgh as integral to her work. "My mama's from the Pittsburgh region, and my dad is from the Gambia, West Africa," she says. "They always talk about [how] they connected because their families were so similar, and the communities they came from were so similar."
As for future plans, Njie says she would like to now "sit down for a moment." "I would like to spend some time by the pool. I don't have a pool — but somebody's pool. From the moment I walked across the stage at graduation, I've never stopped working. I've never had a summer off. I want to take a moment to think about what I'd like to do next. And see what bubbles to the surface in terms of what I'm interested in and what projects I want to pursue."
For now, there's "Flight Plans," running through October 2023. "I hope people visit. And that they just come into it with an open mind and heart and ready to imagine and dream a little bit for themselves."
********************
Flight Plans is open through October at the Carlow University Art Gallery, space 203 in the University Commons building: 3333 Fifth Ave.
********************
Angela Bronner is a writer living in Harlem and dreaming of various modes of flight.