After a generation, the children of Somali Bantu refugees find social and career advancement.
By Ervin Dyer
On the set of "Ma Rainey's Black Bottom," Haji Muya was busy changing camera lenses, getting batteries, and pulling cables. As the Netflix film was being made in the summer of 2019, he was a production assistant serving in the Strip District, the North Side, and other Pittsburgh locations. Most days, he was only a few feet away from producer Denzel Washington and actor Viola Davis. He also got to meet "Black Panther" star Chadwick Boseman. To be in close proximity to Hollywood icons is a dream for most, but it was most improbable for 32-year-old Muya.
Almost twenty years ago, Muya was 13 years old, and one of about 14,000 Somali Bantu people allowed refugee status to enter the United States. After arriving in 2004, they resettled in cities such as Atlanta, Buffalo, New York City, and Salt Lake City.
Muya, his parents, and seven siblings ended up in Pittsburgh. It was a difficult transition because so many of the refugees were African Muslims resettling into largely Christian spaces. There were other challenges, too. In Somalia, most were farmers who raised maize and mangoes to feed their families. They came to the United States with very limited formal education and were forced to live in segregated, impoverished urban areas. With limited skills, many could only access low-paying jobs as factory workers, janitors, laundry helpers, or as aides in senior care centers. All these positions thrust them into America's working poor.
When we came, we [had] never seen a Black person who doesn't speak Swahili. But these kids, our neighbors, they're like: 'What are you talking about man? I don't speak that.

Haji Muya
Muya was born in Mofi, a village in the Jubba Valley in the East Africa nation of Somalia. His relatives were goat herders who lived off the land. In Somalia, the Bantu people were marginalized by anti-Black attitudes and deemed a lower caste, marked by their dark skin, broad noses, "hard hair," and Bantu ancestry. Formerly enslaved in Somalia, they were a persecuted minority often denied access to education and other socioeconomic opportunities.
When civil war came to Somalia, they were left unprotected. Guerrilla fighters pillared their villages, raped the women and children, and forced the men and young men into war. To escape, thousands of Somali Bantu began a long and traumatic exodus to Kenya. It was a journey of a thousand miles, and they walked across vast stretches of desert. At the time, Muya was an infant being nursed by his aunt as his mother was too sick. Later, he would hear stories about how families survived by drinking their own urine.
Muya's family ended up in sprawling, squalid, fenced-in refugee camps in Kenya. They first lived in the Dadaab refugee complex and would later relocate to the Kakuma refugee camp in preparation for their transition to the United States.
Muya says they felt duped upon arrival in the U.S. It was not the "promised land" of skyscrapers, business suits, and fast money that they saw in films. They arrived in Homewood, an underserved community in Pittsburgh, and were placed in a dilapidated house surrounded by trash and abandoned properties on Kelly Street. They were taunted and called harsh names by the neighborhood children and in school. It was an absolute culture shock.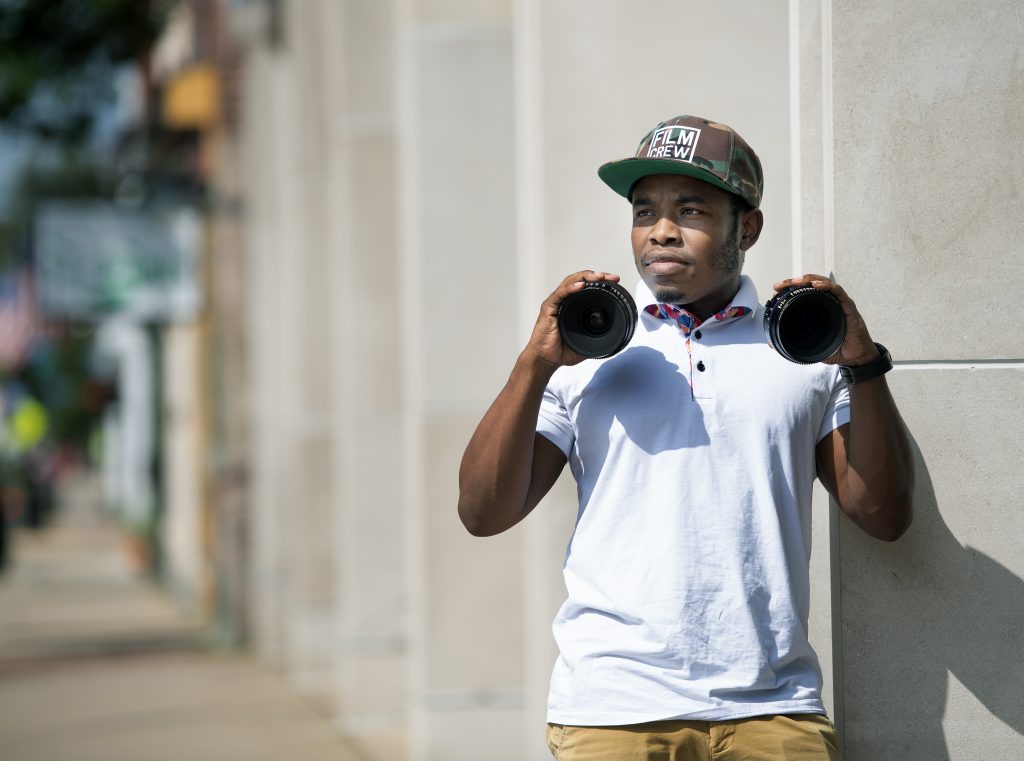 "When we came, we [believed] that if we [saw] a Black person, they [had] to speak Swahili," says Muya. "We've never seen a Black person who doesn't speak Swahili. But these kids, our neighbors, they're like: 'What are you talking about, man? I don't speak that sh**'."
They felt further isolated in school, where the Somali Bantu were shuffled into ESL classes for much of the day. "It was almost like being in a ghetto," says Muya, "because you're [separated] from the other kids within the school, within the community, and you're already [at] a disadvantage because you have to catch up on everything. Catch up on the culture, catch up on studies, catch up on understanding the people, and you know, America itself."
As they struggled to adjust to life in the United States, the families were the subject of persistent media coverage. Reporters came to their homes and followed them at school, tracking their day-to-day hardships. Muya was fascinated by the cameras, the coverage, and the energy of it all. He was a bit upset that they chose his older siblings for the interviews, but what he saw sparked an interest in the media.
"If you guys are gonna ignore me, I'm gonna have to put myself on TV," Muya said as he reflected on his train of thought that inspired a media career. "So that's the whole idea why I went to film. I wanted to put myself on TV. If nobody was gonna do it, I had to do it."
After high school, he earned a degree in film at the Art Institute of Pittsburgh. He also worked with the television channel Fox 53 and for an independent film company, SteelTown, where he learned live feeding, the master control, camera work, and other aspects of production. He also taught drone photography and filming at a community college.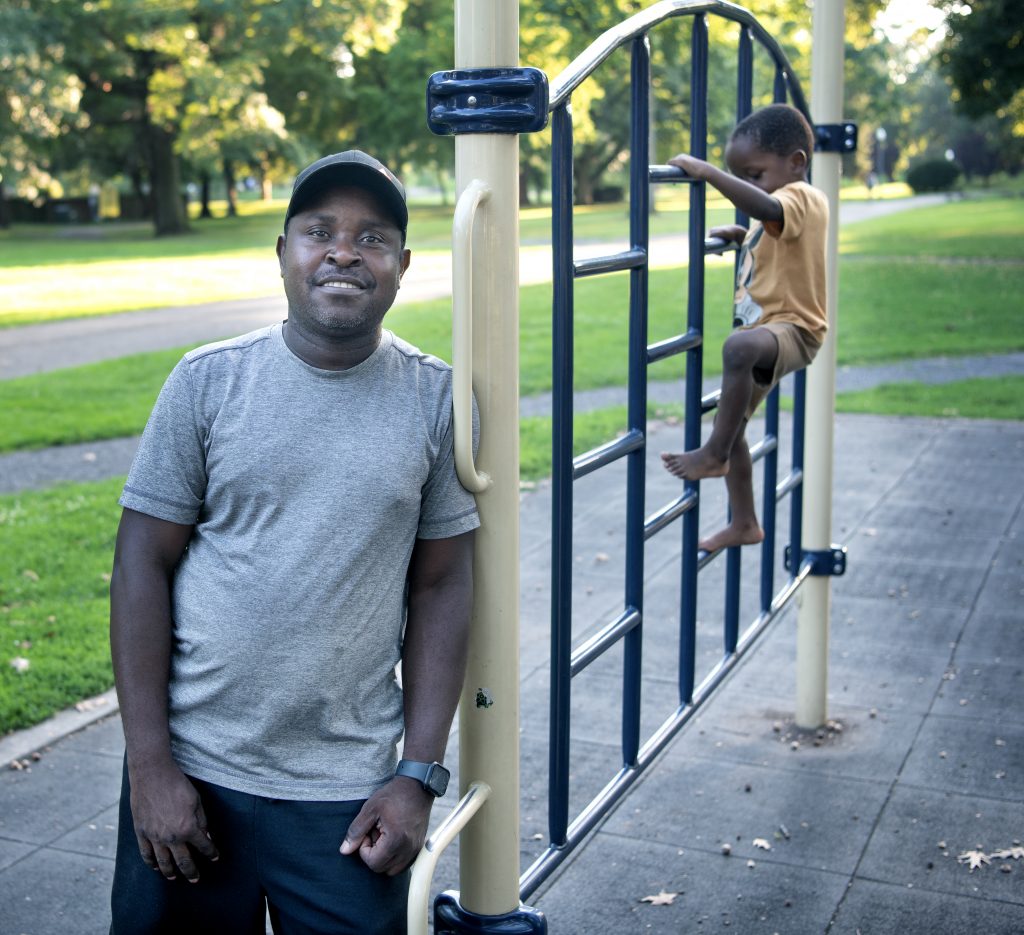 Self-determination and a life-altering support system: several children of Somali Bantu families that resettled in Pittsburgh nineteen years ago. From left to right: Omar Muya, Futuma Muhina and Hajj Muya. Photo Credit: Nate Guidry Photography
What helped Muya to advance is that one connection led him to the next, which led him from one job to another. Eventually, he was working on the series "Mindhunter" and got his big opportunity at Netflix.
Research often shows that our networks (where we live, our economic status, access to education, meeting new people, etc.) can determine what we can become. In other words, poor networks equal poor outcomes. For the Somali Bantu to have been pushed into such impoverished spaces could have locked them into a cycle that produces class inequities and denies generational and communal advancement, said Dr. Waverly Duck, a sociologist who focuses on race and inequality.
One major variable changed life outcome prospects for the Somali Bantu refugees, distinguishing their experiences from those of low-income Black Pittsburghers. A network of social workers and volunteers connected to faith-based and refugee aid organizations reached out to them and provided support. This network was mostly middle-income white people who, either directly or through friends of friends, connected the Somali Bantu to jobs and better-performing schools. They also assisted them in assimilating to American ways of life and values. The social influence (which was coupled with tutoring from local universities), mentoring, and other aid provided a support system that is rarely available to other low-income groups in Pittsburgh.
For Muya and the others profiled from within the Somali Bantu community, this proved to be life-altering when enhanced by their own determination. While the elder generation were former goat herders, subsistence farmers, and war refugees, their children became shop owners, nurses, teacher assistants, financial workers, community activists, and more. They were able to achieve what wouldn't have been possible in their home nation: they went off to college, created businesses, and found more hopeful horizons. Here are three other stories:
Fatuma Muhina, 32
Community Activist
Muhina arrived with her family in Pittsburgh in July 2004. She was 12 years old when she started the seventh grade here. Today, she is a married mother of nine children, from 3-month-old twins to a 15-year-old. Muhina is a graduate of Community College of Allegheny County and Bradford School of Business, with degrees in accounting. She lives on Pittsburgh's North Side.
I'm trying to change the gap between Americans and Africans because there are lots of misconceptions.

Fatuma Muhina
On Resettlement: Muhina remembers the language barrier as the most difficult aspect of settling in Pittsburgh. Many of the elders didn't speak or read English. This meant that the youth, who had a limited understanding themselves, were often called on to serve as interpreters. She says this often led to miscommunication with school officials in relation to student attendance, academic performance, and discipline. In 2019, she joined the United Bantu of Greater Pittsburgh and is now its vice president. Her activism is centered on helping to reduce the mistrust caused by continued language barriers, which she believes can reduce suspensions and enable more school success for young Somali Bantu. She is also working to address housing issues, engagement with police, and better relations with neighbors, particularly in the Northview Heights community, where 75 percent of the Somali Bantu families live. "I'm trying to change the gap between Americans and Africans," she says, "because there are lots of misconceptions."
Abdulkadir Chirambo, 35
Store Owner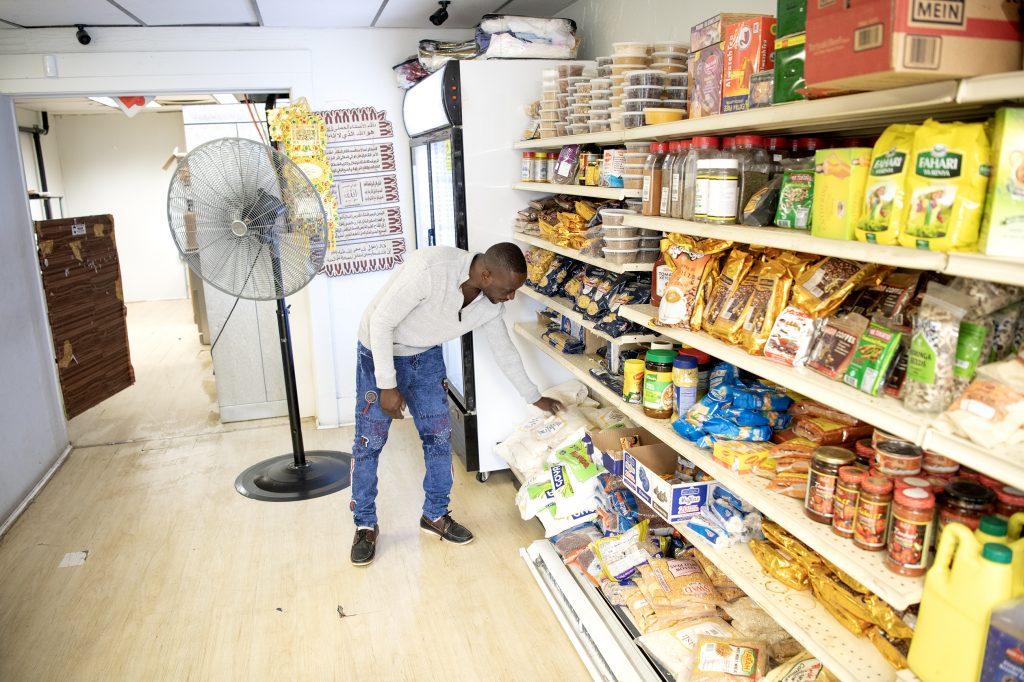 Abdulkadir Chirambo (left) organizing merchandise in his East African Grocery store; (right) with his son inside his store in August 2023. Photo Credit: Nate Guidry Photography
Chirambo came to America when he was 15 with his dad, his mom, and his two sisters. The family settled in Erie, Pennsylvania. After high school Chirambo moved to Pittsburgh to attend Pittsburgh Technical Institute and studied criminal justice. As a result of his fluency in English, he served as a translator for the courts and local social service agencies. For a while, he also worked with Walmart and as a cable technician. Chirambo soon joined a local Somali Bantu community group that connected him to city, county, and Urban Redevelopment Authority officials, as well as bankers. Those connections would pay off greatly. Chirambo was exposed to ideas on entrepreneurship and financing. It would help with his dream of opening a market. He noticed that Somali Bantu families often had to drive for hours to Columbus, Ohio, to shop for food and clothing and send money home to Africa. In October 2020, with a loan from Bridgeway Capital and financial support from his wife, Chirambo was able to open East Africa Grocery, a two-story storefront in McKees Rocks, a community close to Pittsburgh. It sells a little bit of everything: boniato sweet potatoes, cassava meal, Basmati rice, mixed spices for tea, women's clothing, and religious attire for men.
On Resettlement: Chirambo says the toughest part about life in Pittsburgh is not knowing where the resources are. "Because I was able to work with the public, I learned to brainstorm and learned what to do to live better," he says. What made the difference for him? Finding a network, being in leadership meetings, having a sense of purpose, discussing solutions, and listening. "If you sit in the house," he said, "you'll never get a job. This cuts you off. But when you know different, you do different."
Omar Muya, 39
Real Estate Proprietor at Omari & Sons LLC and University Electrical Technician
Muya, the older brother of Haji Muya whose story begins this article, was 19 when he arrived in Pittsburgh with his family. He now lives on the North Side with his wife and four sons. He had one year of high school and then took classes in electrical engineering at Community College of Allegheny County. Muya got his first job in janitorial services at Carnegie Mellon University (CMU) after being recommended for the position by a middle-class woman who knew someone at the university. She had connected with the Muya family while helping Somali Bantu refugees resettle. Once in the position, he worked hard and was given assignments beyond cleaning, exposing him to electrical work and carpentry. Today, he works as an electrical technician at the university. Additionally, Muya is the proprietor of Omari & Sons, LLC, a real estate business. In 2007, while at CMU, his supervisor enlisted his help with small home construction projects. With each project, he learned from others on-site – plumbing, tile work, flooring, demolition, etc. Ultimately, he gained enough skills to branch out on his own. In 2010, Muya bought his first home, rehabbed it, and put it back on the market for sale. He purchased two more homes and rehabbed those as well, becoming a "flipper." Through this hobby, he ended up flipping approximately 20 properties. Today, he works alongside his brothers and other Somali Bantu friends on real estate construction and rehab projects. Muya was first motivated to acquire and fix properties to provide better housing for the Somali Bantu population in Pittsburgh, whose economic struggles had forced many into substandard housing. To grow the business, he decided to branch out beyond just an altruistic effort. 
[It] was like a bridge was built for us. We had so [many] people helping and wanting to give us a chance. The help we were given was an advantage, but we had to capitalize on it and challenge ourselves to work hard.

Omar Muya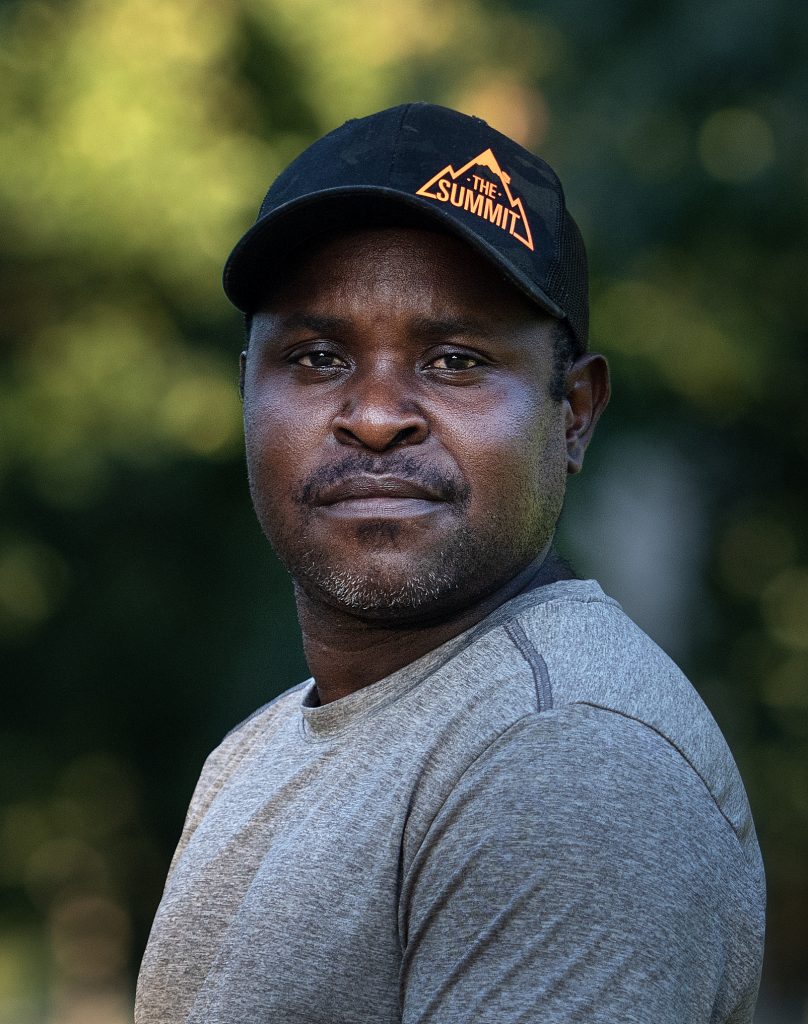 On Resettlement: Muya was challenged by the adjustment from village to city life, as well as educational and language barriers. "I felt like whenever I had to talk with people, I felt like it could never get my point across. I had to learn to speak through my work, the effort I put out," he says. Muya believes meeting people who wanted to offer support played a key role in his success. "[It] was like a bridge was built for us. I remember for one job, a bunch of us had to go to work in Washington County (about a 30-minute drive from Pittsburgh), and someone donated a van, found us a driver, and donated gas so we could get to work. We had so [many] people helping and wanting to give us a chance. The way I look at it, I came to this country [as] a boy from a village or from a refugee camp, and I didn't have nothing. And then here everything is in front of you. The help we were given was an advantage, but we had to capitalize on it and challenge ourselves to work hard."
Ervin Dyer is a writer who focuses his storytelling on Africana life and culture.