Saturday gatherings at Calvary Episcopal Church help local Ethiopians sustain communal ties.
By Ervin Dyer
It's 8:30 on Saturday morning, and a close-knit group of Ethiopians is gathering in the refectory, a small hall in Shadyside's Calvary Episcopal Church. Members of the local Ethiopian community have been welcomed into this longstanding church for the past two years. Previously, they met in the basement of a coffee shop in New Kensington, just outside of Pittsburgh.
As they were looking for a new, more central location, one that shared a common faith, one of the Ethiopian members made a "cold call" to the Calvary church rector. The member had heard of the church hosting the Tree of Life congregation after the mass terror attack that took place in October 2018. The rector opened Calvary's door while the Ethiopian community continued to search for a more permanent place to worship.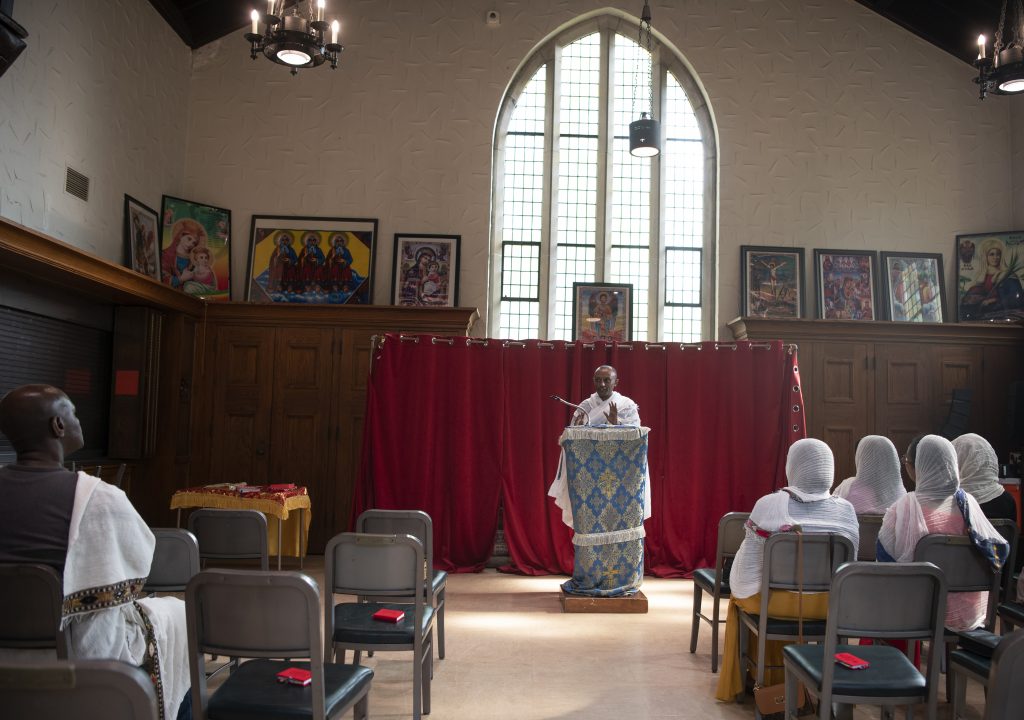 At Calvary, there's fellowship, prayer, breaking bread, and commemoration of the martyrs. Referred to as tsebel mahibere in Amharic, the official language of Ethiopia, the gathering time is believed to establish a wellspring of holy blessings. It is a quiet and meditative time full of reflection and hymnal singing. In addition to creating space for community, meeting at Calvary serves as a bridge to the traditions, and cultural pride of Ethiopia, one of the continent's oldest independent countries and one that has never been colonized.
About 251,000 people in the United States were either born in Ethiopia or are of Ethiopian ancestry, according to the Migration Policy Institute's analysis of recent U.S. census data. Approximately 300 of them—mostly families and students—live in Pittsburgh. They can trace their history here back more than half a century. Many of them came here seeking a better life.
Advocate and community organizer Wonde Haile Selassie, who works to unify Ethiopians in Pittsburgh, helps to lead the gathering at Calvary. He reads from the Gospel of St. Matthew, choosing passages to uplift the gatherers. Selassie is named for Ethiopia's legendary emperor Haile Selassie, a leader who created the nation's constitution and was the first Ethiopian emperor to visit the White House in the 1950s.
Wonde Selassie was born, raised, and educated in Addis Ababa, the capital city of Ethiopia. His father served in the country's military, and his mom was a homemaker. Selassie says he had a good life in Ethiopia, but social and political turmoil led him to seek opportunities elsewhere. Thirteen years ago, he entered the United States Diversity Visa Program and received a green card to come to the United States. He and his wife first moved to Northern Virginia, but a job in technology brought Selassie to Pittsburgh six years ago.
The same meaning that it had for our grandfathers and grandmothers, we find the same meaning when we come together.

Wonde Haile Selassie, community leader
Calvary's Saturday gathering is a reliable source of support as newly arrived Ethiopians navigate language barriers, new social customs, and anti-Black racism. Although they meet in a church and sit divided by gender, this is not a worship service. A traditional Ethiopian Orthodox religious service requires that they meet on Sundays with a priest at the front of an altar, and attendees would not be allowed to wear shoes in the sanctuary. The Saturday gathering, in contrast, is an informal time meant to foster camaraderie and pass on cultural traditions to younger generations.
The gathered speak Amharic. For Ethiopians in America, Amharic is a unifying force that transcends diverse ethnicities and regions that may have separated them back home.
The attire worn also reflects a desire to maintain cultural and religious traditions. The men drape themselves in a netela, a long white cloth that is folded across the shoulders to symbolize the sign of the cross. The women dress similarly with a netela covering their hair. The material worn, says Selassie, is meant to cover the body, which is a nod to modesty and focuses the mind on the spirit.
The meetings are a bridge to tradition and cultural pride (bottom left) Tikdem Feyissa (top left) Wonde Selassie (right) Tikdem Feyissa hugs Hiwot Yadette. Photo Credit: Nate Guidry Photography
On the wall of the refectory, there are images of the Madonna, the Trinity, and the Crucifixion. All of them are portrayed with the darker skin and ethnic features of Ethiopians. The icons are important, as most Ethiopians are Christians, with roots in the Coptic Orthodox Church. Most of the attendees at Calvary are part of the Ethiopian Orthodox Tewahedo Church, which separated from the Coptic tradition and was granted its own Pope in 1959.
"Religion is a part of who we are," says Selassie. "We cannot separate it from our life. It's how we interact with other people."
Our whole community can gather here to fill the [longing for] our cultural values.

Nahom Beyene, community member
Since the Ethiopian community in Pittsburgh is smaller than in other cities, there is no geographic district or neighborhood where a majority reside. This minimizes possibilities for bonding at grocery stores, small businesses, schools, or through daily encounters. As a result, the gatherings at Calvary are significant to the community and nurture a sense of belonging. The meetings also prevent attendees from feeling the "loss" that comes with being Americanized, explains Selassie.
Before Calvary became a pillar of the community, the primary gathering place was Tana, an Ethiopian restaurant in the East Liberty business district. Opened in 2008 and operated by Seifu Haileyesus and Martha Agedew Vasser, Tana remains a key identity marker and source of pride for the community.
"Coming together is interwoven in all aspects of our life. It's how we care for each other," says Selassie. For example, the community recently came together for a birth and provided care to the mother and the father, as would have been the custom in Ethiopia.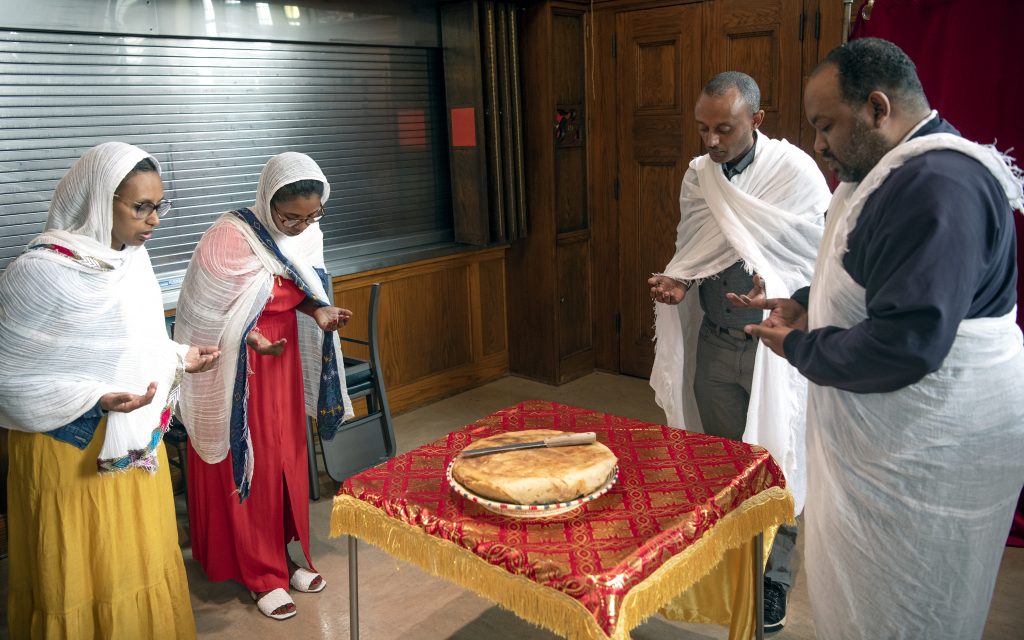 Nahom Beyene, who attends the gatherings, came to the city in 2007 as a graduate student at the University of Pittsburgh. While Beyene's parents are from Ethiopia, he was born and raised in Dallas, Texas. His work in research with the RAND Corporation in Oakland kept him here. Beyene says the gathering satisfies many needs, including counseling, teaching, and conversation. "I feel like our whole community can gather here to fill the [longing for] our cultural values," he says.
As the attendees practice zikir, the commemorative sharing of food and drink, they hug, drink tea or coffee, and eat difo or ambasha (bread). Selassie watches over everything and echoes Beyene's sentiment: "Everything is here. The same meaning that it had for our grandfathers and grandmothers; we find the same meaning when we come together. Here we feel validated and valuable."
Ervin Dyer is a writer who focuses his storytelling on Africana life and culture.