Michelle Kenney launches a new effort to support Black Pittsburgh mothers who have lost a child to gun violence.
By Black Pittsburgh.com Staff
The 7th Day, a new initiative founded by Michelle Kenney, the mother of Antwon Rose, is taking on one of the most difficult challenges facing Black communities: how do we provide respite for Black mothers who lose their children to gun violence?
Antwon was an East Pittsburgh teen who was shot and killed by police on Juneteenth, 2018. He was only 17.
The 7th Day believes that restorative moments are too often the missing essential variable when it comes to stepping away from the grieving process—and the work. BlackPittsburgh.com spoke with Ms. Kenney about how 7th Day helps grieving mothers take this first step toward healing.
"The concept behind the 7th Day is actually easy and it's so logical," says Kenney. "What was the seventh day for God?"
Indeed, it was a day of rest. Kenney is thankful for all those who have helped her over the last five years as she has grappled with what she sees as her life's work: To prevent any other mother from experiencing the sudden death of a child to gun violence.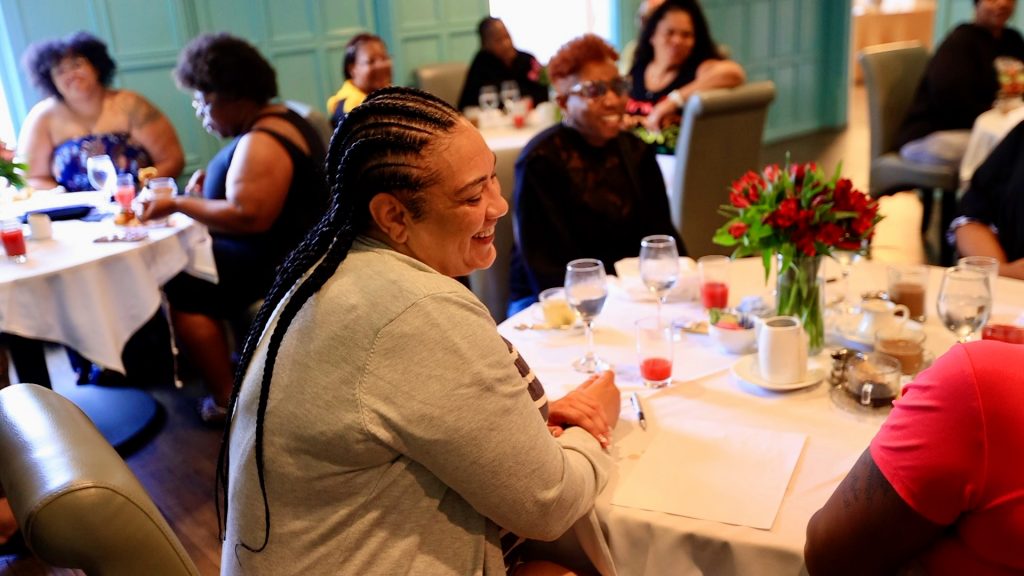 Kenney mentions 1Hood Media Academy*, an organization that she's worked in tandem with almost from the beginning of this journey. 1Hood, which serves as an incubator for emerging social justice organizations, partnered with The Antwon Rose II Foundation to help Kenney launch the 7th Day.
"I know how blessed I am to have a team behind me. After all, I went through, I ended up with 1Hood," she says. "If I'm still struggling with support, what happens to moms without support?"
The idea for the organization has evolved over time. She recalls a conversation with Jasiri X (co-founder of 1Hood), where she shared the challenges of grieving mothers in Pittsburgh who have lost their children and who have reached out to her directly.
My concern from the beginning is only that the moms were protected.

Michelle Kenney, founder of the 7th Day
"Many [moms], after losing their kids, were still holding their family down and still going to work every day," explains Kenney. "One mom [who worked for Port Authority] has a bus route that every day goes past the place where her son was killed."
Kenney says working with people like Celeste Smith, another 1Hood co-founder, helped her sharpen her purpose.
"What can you do after something so tragic happens in your life," Smith asks, recalling a conversation she had with Kenney a few years ago. "I asked Ms. Michelle, 'What is your ministry, what is your mission? What's something that you can hyper-focus on that can shift your focus from just thinking about the tragedy?'"
Kenney ruminated on that question.
"I really struggle with trying to make sure people understand that this grieving process is different," she says. "I know grief is grief and we all go through it, but most people get to go through it without the world watching. Most people get to go through it and there aren't constant reminders."
It's a peculiar predicament for Black mothers who become famous for the murders of their children. They are conscripted into action in the ongoing efforts to challenge the tragically flawed policing systems that plague our communities. But they didn't choose this life.
"I don't have any answers," Kenney says. "I just know that I can't give up, and every day I gotta figure out something."
As the mother of two (she also has a daughter) wrestled with the loss of her son and the acquittal of the officer who killed him, she came across a 2019 study revealing the plight of Black women in Allegheny County, Pa. Commissioned by the City of Pittsburgh's Gender Equity Commission, the report proved what Kenney had known for most of her life: "Allegheny County (including Pittsburgh) was the worst place in America for Black women to thrive," she says. "We lose our kids on top of that and have to just go on."
Kenney's mission was becoming more clearly focused.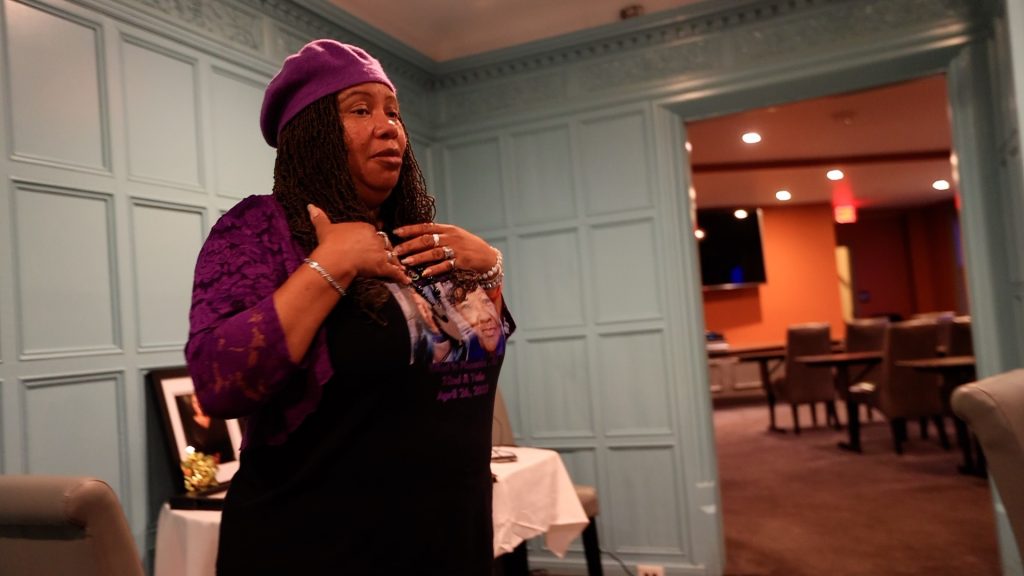 Guest speakers at 7th Day Retreat. Beatrice Johnson (left) and Deanna Joseph (right). Photo Credit: Emmai Alaquiva
"If I could do anything to make myself feel better, it would be to give the moms in this city, specifically Black moms, a chance at some rest and respite where they didn't have to worry about anything, and they would be taken care of the way they take care of everybody else," she says. "Because I think that so many times Black women are just unappreciated."
After Antwon's death, Kenney noticed that women who were faced with similar circumstances gravitated to her for advice, insight, and comfort. Now through the 7th Day, she's creating programs to help.
First, Kenney organized a dinner meeting in April for the bereaved mothers at the Brazilian cuisine, fine dining restaurant Fogo de Chão in downtown Pittsburgh. She wanted the mothers to understand that this was leisure and wasn't meant to put any burdens or responsibilities on them.
"I would really just like you for you to come," she told them. "I don't want you to do anything. I don't want you to have to talk to anybody. I'm not expecting anything from you."
For Kenney, it was imperative that moms felt safe and ready for nothing more than fellowship.
What is your ministry, what is your mission? What's something that you can hyper-focus on that can shift your focus from just thinking about the tragedy?

Celeste Smith, 1Hood Co-Founder
"The moms showed up," she says. "And some amazing things happened in that room."
As the servers waited on the moms, Kenney realized the fundamental basics of what she could provide to mothers wrestling in the aftermath of a tragedy that transformed their lives overnight.
"Everybody, when they spoke, said the same thing," she says. "They never go anywhere; they don't do anything."
Many of the mothers have other children. So, "they're still making Sunday dinner. Still gathering for the holidays," she says.
The 7th Day asks us to consider the utter isolation of it all – not just losing a child prematurely, but the ways in which that kind of loss produces a kind of grief that persists for years, maybe forever. Kenney took note of the dinner discussion.
The common message from the moms was that they wanted more engagement.
"They want to become active, but they're stuck, and they just need some support, some help, and not to feel like they're carrying the load themselves," she says.
During that inaugural dinner, Kenney convinced the moms to sign up for the next event: a professional photoshoot a month later. Kenney's not big on hair and makeup, but she remembered how her own professional shoots impacted her self-esteem and showed the public her full humanity.
"I actually hate getting my picture taken," she says. "I don't like interviews, and I never wanted to be popular, famous or nothing."
But the work—advocating for and supporting mothers in similar circumstances —positioned Kenney to understand how controlling one's image is a critical part of the grieving process, as well as the long road to becoming an activist in the fight against community and police gun violence.
All the women who were invited showed up. Kenney says the atmosphere was transformative. The moms were all treated to hair and makeup by professional stylists along with a professional photo shoot. But what mattered most was the fellowship.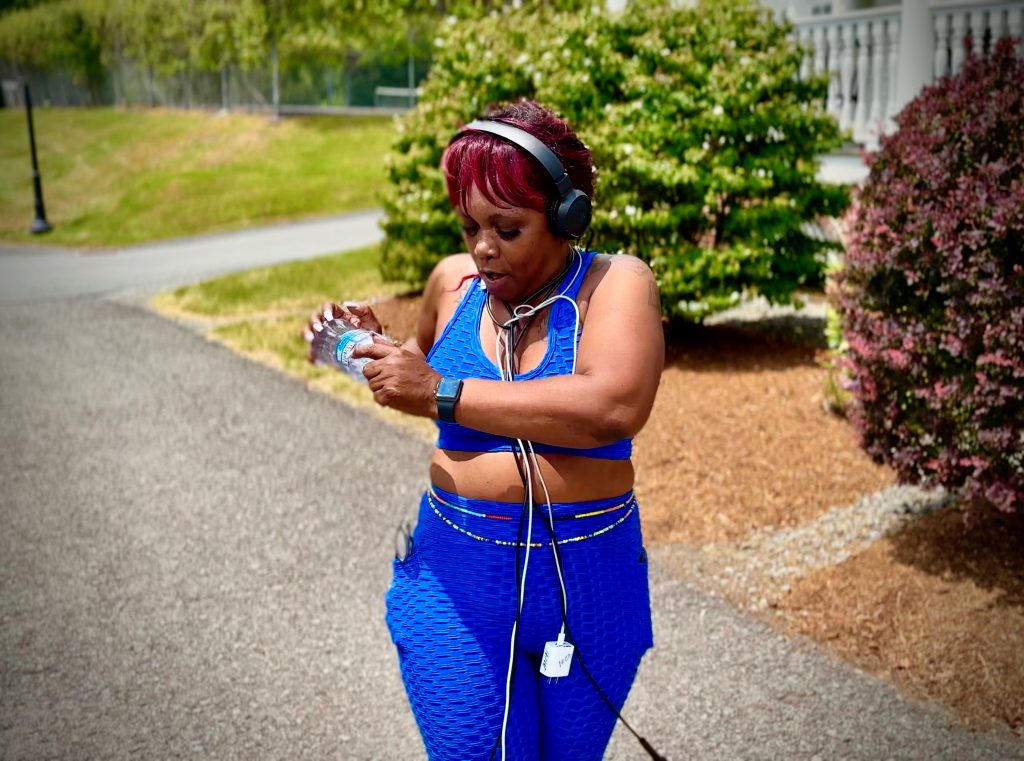 Clockwise from top left: Charmaine Lewis working out during the Saturday break; journal entry from the distress table; Nikki Ausbrook looking at photo/portrait during unveiling; Sheree Copeland listening during welcome presentation; Tammy Demery during yoga class; Tammeka Dennison looking at the gift bags. Photo Credit: Emmai Alaquiva
"If you didn't know better, you would think these moms knew each other their entire lives,"
she says as she reflects on the energy and camaraderie.
The first slate of programs for the 7th Day culminated with a weekend retreat in early June at the Mansion at Noble Lane in Bethany, Pa. The opulent mansion-turned Bed and Breakfast is the only Black-owned facility of its kind in Pennsylvania. Kenney had seen the mansion on a reality show, but when she saw it in person for the first time, she knew this was the right place for the mothers' getaway.
Grief is grief, and we all go through it. But most people get to go through it without the world watching and there aren't constant reminders.

Michelle Kenney, founder of the 7th Day
The programming for the weekend was rest, respite, and fellowship. Ten mothers came. Due to extenuating circumstances, two of the moms invited were unable to attend, Lisa Saunders (mother of Anthony Hoots) and Tanay Wright (mother of NaeKwon Wright). 7th Day still included them by sending them gifts.
Beatrice Johnson (Co-founder of Love Not Blood and Oscar Grant's aunt) and Deanna Joseph, mother of Andrew Joseph III, served as guest speakers and lent their support and guidance for the entire weekend.
"They ate all the meals with us; they hung out with us," says Kenney. "On Saturday night, we [spent time] at the fire pit outside, and we were singing and [doing] karaoke and just laughing and talking."
One of the highlights was on the first day when the mothers saw their photos from the photoshoot for the first time. Kenney kept the unveiling a surprise. The moms were all invited to the dining room and discovered their framed photos in their assigned seats.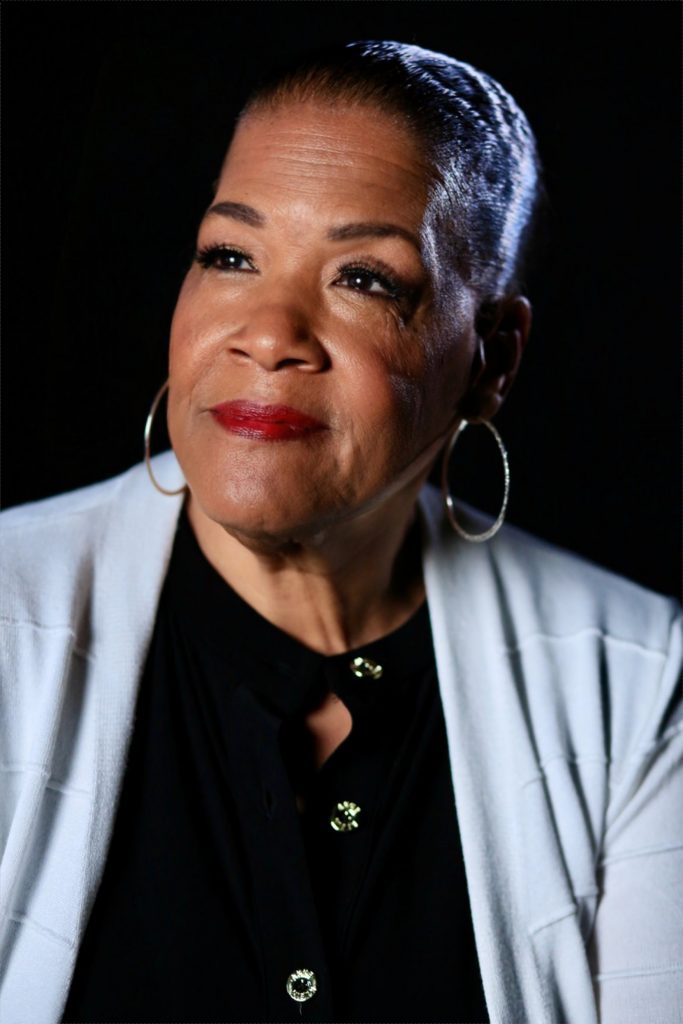 Photos of the moms from their photo shoot. Kenney believes photos like this help the moms to show their full humanity when interfacing with media: Top Row: Shirley Morrison (mother of George Morrison), Charmaine Lewis (mother of Trequan Embry), and Tammeka Dennison (mother of Jimmy Wopo). Middle row: Tammy Demery (mother of Damont Adams), Nikki Ausbrook (mother of Tyrone Coleman), and Isha Staples Johnson (mother of Isha Tyree). Bottom row: Michelle Kenney (mother of Antwon Rose II), Sheree Copeland (mother of Omari Thompson), and Tenika Johnson (mother of Majer Rainey). Photo Credit: Emmai Alaquiva
"Those photos turned out amazing. And then the same photographer, Emmai Alaquiva, took powerful photos of them seeing themselves," Kenney notes.
"The point was to elevate who they were before the birth and after the death of their child," Celeste Smith explains. "The next step for the 7th Day is to reproduce these moments for another cohort and to get the Antwon Rose II Foundation to the point where it can sustain the work of supporting these mothers."
This is the mission of the 7th Day: to facilitate a fellowship of mothers finding their way forward together. And for Michelle Kenney, it is a labor of love. She remains indefatigable and undeterred.
"My concern from the beginning is only that the moms were protected," she says, "because I was left unprotected."
*Editor's Note: 1Hood Media Academy is the publisher of BlackPittsburgh.com