The Rev. Dr. Asa Lee is more than a year into his trailblazing role as the first Black leader of Pittsburgh Theological Seminary
By Ervin Dyer
During the week, the young college student played in piano bars. On Fridays, he played in nightclubs. On Saturdays, he did weddings. And, on Sunday mornings, Asa J. Lee, with his vibrant, steady hands, pounded on the ivories, filling the church with music and spirit. It was a peripatetic life that exposed him to jazz, blues, gospel and all manner of faith traditions, too: Pentecostal, Episcopalian, Lutheran, Baptist and Presbyterian.
After college, Lee continued to rouse worshippers and spirits as he went on to serve as minister of music for a church in Maryland, and later as a music teacher in private and public schools. Along the way, he became a reverend, earned a doctorate in theology, and, in a trailblazing turn, began to hum a whole new tune.
For more than a year now, the Rev. Dr. Lee has served as the seventh president of Pittsburgh Theological Seminary (PTS), a quiet, green campus nestled in Pittsburgh's East Liberty/Highland Park neighborhood.
He began in the summer of 2021 and, in the school's nearly 230-year history, he became the first African American Baptist theologian and scholar to lead one of the nation's oldest Presbyterian Church (U.S.A.) seminaries.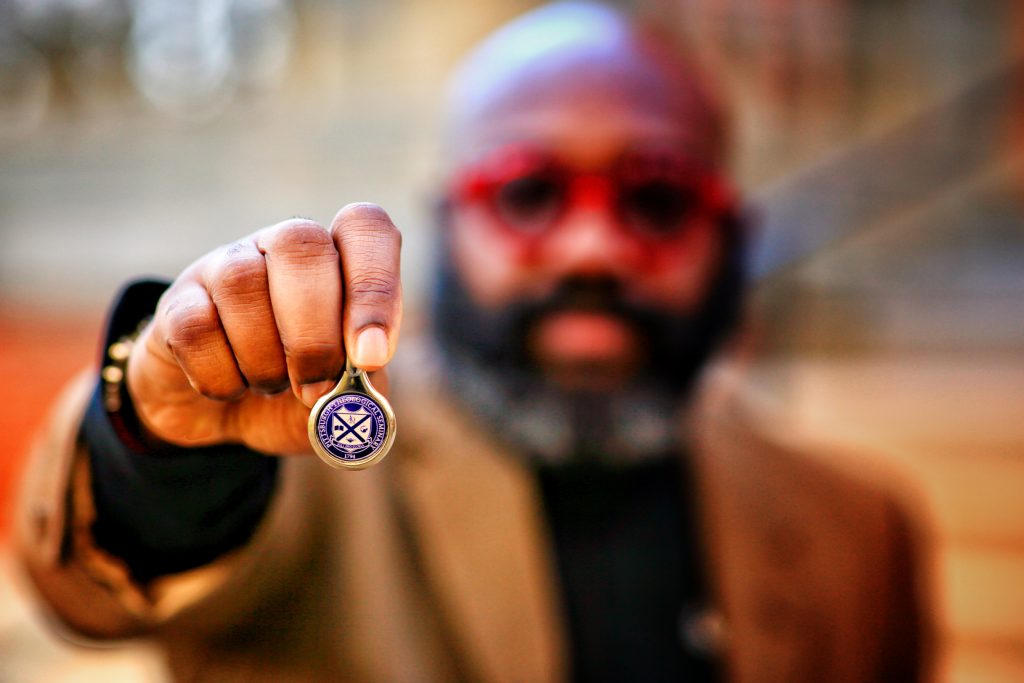 The historic appointment broke racial, social, and cultural barriers. The Rev. Lee, a member of the Progressive National Baptist Convention, is at the helm of a seminary that is part of a mainline Protestant denomination where an estimated 40 percent of its membership is considered conservative.
The Pittsburgh Theological Seminary enrolls about 200 students, all in graduate programs. African Americans make up 21 percent of the student body, according to the most recent data supplied to the U.S. Department of Education.
The Rev. Lee assumes the mantle in a moment when Protestant church attendance is in decline and seminaries are trying to reimagine how to stay connected to denominational life, equip pastoral leaders, and prepare a wave of seminary students who don't want to lead churches, but who want to try to frame their ministry through vocations in psychology, law, social work, medicine or media.
The Rev. Lee plans to strengthen the seminary's curriculum and its outreach, all while nurturing the next generation of seminary students to be prepared for a rapidly changing world and to be better stewards of their abilities.
Perhaps no one is more surprised by the appointment than the Rev. Lee. He was working in executive administration at Wesley Theological Seminary, a United Methodist campus in the nation's capital, Washington, D.C., when he saw a notice that the presidency was open. He decided against applying, thinking that the transition from D.C. to Pittsburgh would not be a good fit and that race and denominational differences did not make him a part of the "tribe" of those to be considered.
Shortly after, however, a search firm consultant reached out to the Rev. Lee, informing the pastor and dean that he was on a short list of candidates being considered for the leadership role at PTS.
When he received the call, the reverend asked the consultant three questions. "Do they know I'm Black?" "Do they know I'm not Presbyterian?" "Do they know I'm Black Baptist?"
All of the questions were a reference to the pride he held in his culture; personal and church history; and all parts of the identity he fully intended to carry with him.
"For me, I needed to know that I could be the African American male who God made me to be — with my own theological views, my own journey of ministry, my own journey of life. Could I be that fully authentic self here at this place? And the seminary was rightly discerning as well if they were ready to receive that. We've been able to journey together in a very nice way this last year and I think we've got a lot more years to go."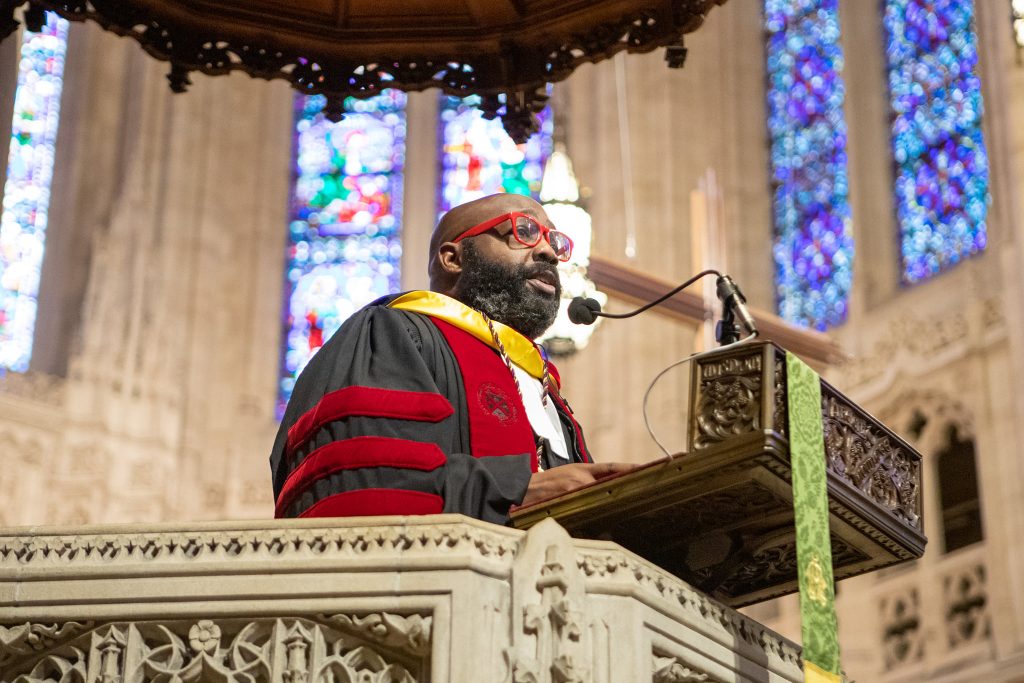 Turns out the seminary search committee did know he was African American and Baptist. But they also knew of and were impressed with his academic and leadership record. Before coming to Pittsburgh, the Rev. Lee served as a vice president for campus administration at Wesley Theological Seminary. There, he was also associate dean for community life and director of African American studies.
According to board member and search committee chair, Eliza Smith Brown, the Rev. Lee was "a lucky find." The campus needed someone relational to connect its many constituencies.
In interviews, the committee found the Rev. Lee calming and inclusive in his management style.
What the board saw, said Smith Brown, was that "he has a proven track record of advancing issues of equity, diversity, and inclusion. We saw that even though he was raised Baptist he had been very successful at a Methodist seminary."
One of his recommenders told Smith Brown this about the reverend's time at Wesley. "He came in here from a Baptist tradition, and he became a better Methodist than the Methodists," wrote the person, because of how the Rev. Lee embraced Wesley's tradition and represented it in an authentic way.
Smith Brown said this showed that the Rev. Lee was good at seeing common goodness and value in all humans regardless of denominational choices, and that this would be useful at Pittsburgh Seminary, as only 40 percent of its students are now Presbyterian, and others come from different faith traditions.
Also, PTS wanted the new leadership to continue the anti-racism initiatives that the seminary has been working on for several years, said Smith Brown. It wanted someone who understands how historical challenges and the urban context have impacted Black citizens socially, economically, professionally and medically.
"PTS is called as an institution to continue to work toward dismantling systemic racism and to work with our stakeholders to become part of the solution," said Smith Brown, "and the Rev. Lee, we felt, was someone who could do that."
Past and Present
The Rev. Dr. Lee stepped into leadership in a seminary and denomination not known for exuberant worship. It is a worship style and culture different from the one he was raised in.
He grew up an only child, raised by his mother and grandmother in Washington, D.C.'s Black community in the 1980s and 1990s. His grandmother took him to Baptist churches that tended to be more fire and brimstone, preaching the damnation of hell, than sanctuaries filled with grace.
But they were also places, he said, "where I could clap my hands. I could sing out loud. I could yell back to the preacher."
Going to worship with his grandmother exposed a young Lee to issues of faith, but also grounded his spiritual formation in a church that pushed for stringent obedience at the expense of a free exchange of ideas.
An inquisitive child, he remembers he could ask questions everywhere – in school, at home, but on Sunday, he often was kicked out of Sunday school for asking what he called the "wrong questions."
When he was 13, he said he felt a call to ministry, but felt "disillusioned," and instead of moving toward the church, he decided to leave it.
It would take a few years, but the Rev. Lee would find his way back to the church through music. At historically Black Hampton University, he majored in trumpet and minored in piano/organ. One of the ways the college student could guarantee having spending change and gas money was to play for churches on Sundays. The more he played, the more the messages of God penetrated. He was baptized in the Christian faith as a college sophomore.
As a young adult in the church, he said he still saw too many people being shut down and harmed when they had questions on faith, life and death and the church leadership provided no way to keep them in conversation with God.
By age 24, after a few years of teaching in private and public schools, he committed to becoming a faith leader who would be unafraid to "help people discover answers through exploration of their faith, not just simply give them platitudes."
This view of ministry would guide him as he went on to earn a Master of Divinity from Wesley Theological Seminary, a doctorate in ministry from Virginia Theological Seminary in educational leadership, and through his beginning years in church leadership, when he was ordained at Mount Olive Baptist Church of Arlington, Va., a ministry founded by formerly enslaved Black people.
He served at Mount Olive for 10 years as the assistant pastor and minister of Christian education, taking his first steps toward becoming a theological educator who helps shape believers in a new generation who work authentically, engage difficult subjects, and do not feel pressured to know it all.
"Faith leaders," he said, "should be prepared to help individuals discover their best selves with God and not be positioned as figures who have every answer" to philosophical questions of identity, existence, power and more.
In fact, during his years at Wesley Theological Seminary, the Rev. Lee began putting this into practice as he championed learning that was theologically grounded, academically rigorous, and that used differences occurring in the outside world to enhance what was unfolding in the classroom.
He also strengthened academic and writing resources and created a culture that fostered community and improved student retention. He was the inaugural director of African American church studies, building networks and resources that could serve Black church leaders.
Being a good neighbor
He has innovative goals for Pittsburgh Theological Seminary, too.
He arrived on the seminary's campus June 2021 in the middle of the pandemic. It was also a summer of social protests sparked by the murder a year earlier of George Floyd in Minnesota.
The social and racial reckoning meant that PTS was examining its past histories around race and racial differences, and theological differences including gender inclusivity, sexual orientation and other challenges. All of those were laid out for the Rev. Lee to address as its new leader.
The Rev. Lee wanted to be a healer.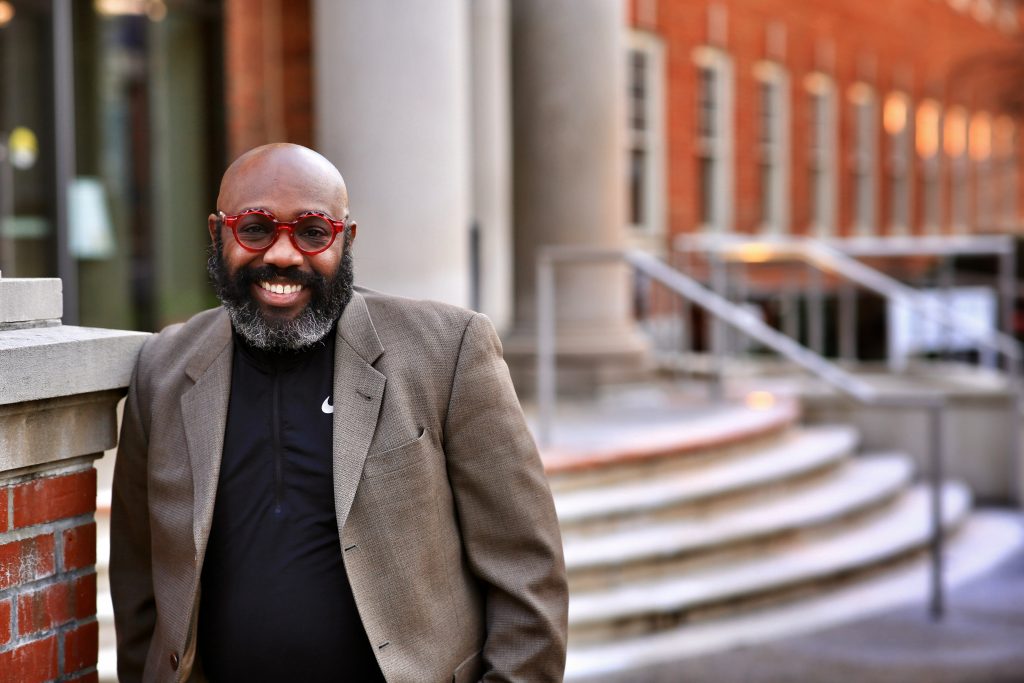 Perhaps, like one of the seminary's most famous graduates, Fred Rogers, "Mr. Rogers" of children's television fame, the Rev. Lee embraced the spiritual concept of being a good neighbor as his tenure began at the school.
As he thought about it, he reached out to transcend boundaries and build and renew relationships.
On campus, he spent much of his first year holding picnics, lunches, and gatherings to boost morale, and to create teamwork and collaboration. He met with staff in town halls, held listening sessions, and strategized on how to reinforce accountability and integrity. The seminary was undergoing a process to be more transparent about what it was and what it was trying to become.
At the same time, he had to attend to accreditation, helping PTS to manage the evaluations needed to maintain its status as a quality educational institution. He had to have "everybody put their hand to the plow" to get that process done.
In the community, the Rev. Lee also began to study the unique culture of Pittsburgh and western Pennsylvania.
As many in the community saw PTS as a safe, neutral space, he saw unique opportunities to build "contextually engaged" partnerships, bringing people to campus to talk about investing in and developing relationships that are personal, relevant to contemporary issues and inclusive.
He pursued relationships with regional partners like Westminster and St. Vincent colleges. He walked across the street to the Obama Academy, a Pittsburgh Public School with an underserved population of students. He formed friendships with the principal, created mindfulness training for the staff, and developed programming to get Obama students engaged on the PTS campus.
He came to appreciate the relationality of Pittsburgh, he said, "because you can build not just long, wide relationships, but deep ones in the process."
Style and substance
Wherever he goes, the married father of four daughters shows up. His background as a musician and pulpit minister has given him a charisma and aura honed from being in the spotlight. He is a sharp-dressing, spirit-driven leader whose style is highlighted not only with his choices of colorful-rimmed spectacles, but also by his passion, eloquence, and sense of vision.
He's a member of Kappa Alpha Psi, the historically Black Greek-letter fraternity, but also holds membership in the American Academy of Religion and the Religious Education Association.
Whatever room he walks into, he's ready to learn, with a reputation for being people-friendly and building consensus. It's a model, for him, of how to find new ideas to solve old problems.
"It is a historic moment," said the Rev. Ron Peters, a PTS board member, and former head of the seminary's Metro-Urban Institute, which included programming to boost Black church ministry.
"Religious institutions are slow to change and slow to recognize change," said the Rev. Peters. "Even social leader and pastor Martin Luther King Jr. once lamented that the church was not a headlight, pointing the way, but in general was the taillight, lagging behind the changes in society."
So, he added, the Pittsburgh Theological Seminary is excited about the Rev. Lee.
The Rev. Lee's wisdom and intellect and experience have groomed him, said the Rev. Peters. "In terms of what to expect in theological education and preparing leaders, he is a symbol of coming attractions."
Ervin Dyer is a writer who focuses his storytelling on Africana life and culture.